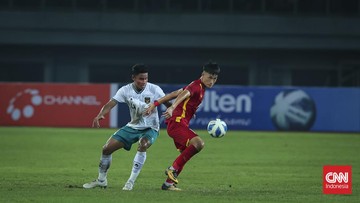 Jakarta, CNN Indonesia —
Indonesian U-20 national team captain Muhammad Ferarri admitted he was sad and disappointed after FIFA canceled the 2023 U-20 World Cup in Indonesia.
This decision was announced by FIFA through an official release on Wednesday (29/3) evening WIB. The cancellation also shattered the dreams of the U-20 Indonesian national team players to play in the 2023 U-20 World Cup.
"Maybe I'm sad and disappointed because the draw for the World Cup (U-20) didn't happen and I also can't explain the details," Ferarri said as quoted by Antara.
"But I represent the players, I'm also very sad, of course. And for today I just focus on the club because tomorrow is also a very important match for our team," he continued.
The U-20 Indonesian national team players were devastated after learning that FIFA was canceling the 2023 U-20 World Cup in Indonesia. Sad faces were seen when Hokky Caraka and friends were gathered by the coaching staff shortly after the announcement of the cancellation by FIFA.
Not only the players, the assistant coach of the U-20 Indonesian National Team, Nova Arianto, even cried. He felt sad because the players' struggles in every practice did not lead to the opportunity to play at the 2023 U-20 World Cup.
Garuda Nusantara team coach Shin Tae Yong locked himself in his room when he heard the news. The formation concocter from South Korea also revealed that it is now difficult to talk about training normally because the mentality of the players is being hit.
"If you look at the mood of our players, they can't do normal training," Shin Tae Yong told reporters, Thursday (30/3).
(Gambas:Video CNN)
(jal)