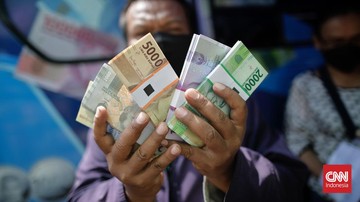 Jakarta, CNN Indonesia —
Bank Indonesia (BI) has prepared cash worth IDR 195 trillion for circulation to welcome Eid 2023. The money provided is for 2016-2022 emissions.
BI Deputy Governor Aida S Budiman said that in this money exchange, his party was working with banks by opening services at 5,066 points throughout Indonesia.
"We provide the money for the 2016 and 2022 emission years, so you can choose later when you want to exchange the money," said Aida in a press conference, Thursday (16/3).
In this regard, Executive Director of the Communication Department of Bank Indonesia Erwin Haryono said that later when exchanging people will get money according to the available stock.
According to him, if the latest 2022 emission money is still available, then you can ask directly when exchanging it. However, if the latest emission runs out, old emission with good quality or fit for distribution will be given.
"Yes, that's true, if there are still choices (desired emission money) of course you can choose," Erwin told CNNIndonesia.com, Thursday (30/3).
Specifically for Jabodetabek, BI will provide circulation-worthy cash of Rp.48.2 trillion which will be divided into 599 points. This money exchange service has been open from March 20 to April 20 2023.
In addition to cooperation with banks, BI will open money exchange through mobile cash services, especially in the 3T area and crowded centers such as religious celebration centers, at homecoming points, and at rest areas.
For money exchange, BI provides denominations ranging from IDR 1,000 to IDR 20,000. Where to exchange one denomination the amount is per 100 sheets.
(Gambas:Video CNN)
(ldy/sfr)