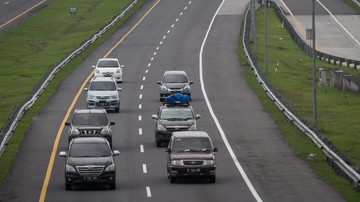 Jakarta, CNN Indonesia —
Driving while going home to your hometown requires focus as well as good physical and mental readiness. Usually, driving when going home for Eid takes a lot of time, so the energy is drained.
Therefore, you have to take regular breaks so that you can safely reach your hometown. Don't force yourself to continue driving when your body feels tired.
Legislation also regulates the maximum driving time. According to state regulations, the recommended maximum driving time in a day is 12 hours and taking a break of at least 60 minutes every four hours.
This rule is contained in Law Number 22 of 2009 concerning Traffic and Highway Transportation Article 90 which discusses the driver's working time. The contents are as follows:
(1) Every Public Transport Company is obliged to comply with and enforce the provisions regarding work time, rest time, and replacement of Public Motorized Vehicle Drivers in accordance with the provisions of laws and regulations.
(2) The working time for Drivers of Public Motorized Vehicles as referred to in paragraph (1) is a maximum of 8 (eight) hours a day.
(3) Drivers of public motorized vehicles after driving a vehicle for 4 (four) consecutive hours must rest for at least half an hour.
(4) In certain cases a Driver can be employed for a maximum of 12 (twelve) hours a day including 1 (one) hour rest time.
This regulation regulates drivers of public motorized vehicles, but can also be applied to private drivers. Driving is said to be a maximum of eight hours a day, then every four hours it is mandatory to take a break of at least 30 minutes.
When confirmed separately, transportation expert Djoko Setijowarno also warned travelers who bring private vehicles at this year's Eid to be more careful and get enough rest.
For trips of more than eight hours, it is recommended that two drivers take turns. According to Djoko, one driver can only drive continuously for a maximum of four hours.
"After four hours, the driver must rest. If you are in a hurry, the trip can be continued with another driver," explained Djoko.
"Most drivers, especially private vehicles, drive more than four hours," added Djoko.
According to Djoko, from a number of surveys and studies, the majority of accidents occur due to driver fatigue.
Referring to estimated data from the National Transportation Safety Committee (NTSC), around 80 percent of accidents are caused by fatigue. Therefore, before taking a long trip, the driver should have enough rest.
"If in the middle of the trip you feel tired, immediately look for the nearest resting place and rest to avoid the risk of accidents," he concluded.
(Gambas:Video CNN)
(dmr)
(Gambas:Video CNN)