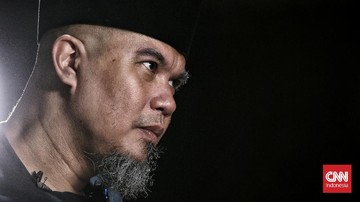 Jakarta, CNN Indonesia —
Ahmad Dhani is currently at odds with Once Mekel by forbidding the soloist from performing Dewa 19 songs, especially songs composed by Dhani.
However, Aldwin Rahadian as Ahmad Dhani's lawyer revealed that Once was still able to perform the song Dewa 19 which was composed by the soloist with Dhani. The song in question is titled Jealous from the album Bintang Lima (2000).
"If Mas Once wants to sing a song he has composed, of course he has the right. For example, the two of them (Once and Dhani) compose a song, he has the right," said Aldwin Rahadian in the Pasar Minggu area, South Jakarta, Friday (30/3).
In addition, Aldwin emphasized that Once was prohibited from performing Dewa 19 songs which were created by Ahmad Dhani and Andra Ramadhan.
Because, it is known that Dhani and Andra are the two personnel who have composed the most songs for Dewa 19. So, Once needs to ask Dhani's permission if they want to sing Dewa 19 songs created by the two personnel.
"What has been banned are several Dewa 19 songs which have been composed by Dhani or Andra, or Dewa 19 outside of Once," said Aldwin.
Aldwin said that all this time Dhani objected to Once performing Dewa 19 songs because the soloist did not ask for permission and did not pay royalties from performing rights. This made Dhani forbid Once from singing his Dewa 19 songs.
For the time being, explained Aldwin, the ban will apply as long as Dewa 19 is on a concert tour until the end of the year. He could not say when the ban would be lifted.
"That is Dhani's objection, so far (Once) has not asked for permission and has not provided royalties," said Aldwin.
"Moreover, added that Dewa 19 is now on tour this year until the end of the year. In fact, there are already many schedules until the beginning of the year. So that is the problem, so that we take care of it from all sides, both from a business perspective, so as not to disturb and to make each other comfortable," he continued.
"When they (Dewa 19) performed songs, there were other people performing Dewa's songs. It was rather inelegant and not elegant. That was conveyed by Dhani," continued Aldwin.
On the other hand, Once Mekel also held a press conference on the issue with Ahmad Dhani after he was banned from performing the song Dewa 19.
(Gambas:Video CNN)
He confirmed that he would still have the opportunity to sing Dewa 19's song, but with a note. Moreover, Once, who is now pursuing a solo career, is often invited to sing in various places, it's not even possible to have a tour on their own.
"If there are EOs who are worried, yes, we will give them an understanding later, that I will only perform at most one song (Dewa 19). That's what I also created," said Once.
"Just for the fans I'm happy," he continued. "Most (song) Jealous."
(pre)