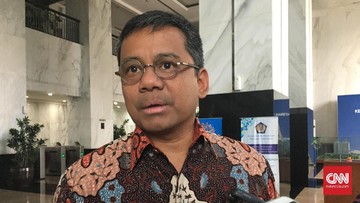 Jakarta, CNN Indonesia —
Deputy Minister of Finance Suahasil Nazara did not rule out allegations of money laundering (TPPU) of IDR 189 trillion related to the sale of imported gold bars.
This was previously conveyed by the Coordinating Minister for Political, Legal and Security Affairs (Menko Polhukam) Mahfud MD that Minister of Finance Sri Mulyani's men covered up the money laundering suspicion.
Suahasil explained that in January 2016, the Directorate General of Customs and Excise (DJBC) stopped the export of precious metals because the export was called jewelry, but it turned out to be ingots.
Then it was seen that there was a potential for criminal acts in the customs sector and which were followed up with research, investigations and trials in 2017-2019.
However, DJBC lost in the District Court (PN). After that, DGCE filed an appeal and was declared victorious. In 2019, a review (PK) was carried out at the request of the reported party and DGCE lost.
"So it is considered that the customs crime was not proven in the last PK of 2019," he said.
Suahasil explained that ML was always related to predicate crimes (TPA). When the TPA is not proven by the court, the TPPU does not advance.
"This means that the court's decision is no customs crime, TPPU stops," he said.
In 2020, DJBC saw the same mode again so it returned to discussions with PPATK. PPATK then sent again data related to the mode that occurred and followed up with various kinds of meetings.
Until August 2020, it was said that if the modus operandi was the same as what happened in 2016 then DGCE would lose in court.
"The PPATK report with a total value of IDR 189 trillion in and out was received by DGCE and followed up with the result that no indications of violations were found in the customs sector. This indication was stated in a meeting with PPATK in August 2020," said Suahasil.
In connection with the results of PPATK's examination, DGT is said to have conducted initial evidence examinations of 3 taxpayers (WP) and supervision of 3 individual WPs.
"I hope that Rp. 189 trillion can be clarified. Yesterday someone said Rp. 189 trillion was not conveyed to the Minister of Finance. There was something covered up by the Minister of Finance. All DGT and DJBC reports are in the Ministry of Finance's system, we can monitor them one by one," said Suahasil.
"Nothing is covered up. Everything is in the Ministry of Finance's system. We can monitor the details," continued Suahasil.
(Gambas:Video CNN)
(fby/sfr)