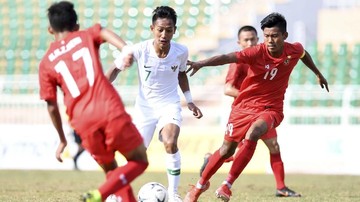 Jakarta, CNN Indonesia —
PSSI released the names of the 36 players summoned to attend the U-22 Indonesian National Team training camp for the upcoming 2023 SEA Games.
In the list of names released, there are a number of names that are familiar with the Indonesian National Team. Witan Sulaeman, Rizky Ridho, Ramai Rumakiek, Ramadhan Sananta, and Alfeandra Dewangga are a number of names who have defended the Indonesian National Team at the senior level.
Meanwhile, a number of other names who had defended the Indonesian National Team in the age group were also summoned to this training camp. Ernando Ari, Bagas Kaffa, David Maulana, Beckham Putra to Braif Fatari are names that have also been the backbone of Indonesia in the age group national team.
At the current SEA Games, the age group limit is U-22 after previous editions were U-23. In addition, at the SEA Games this time, the senior player rule was removed so that all pure players were under 22 years old.
The Indonesian national team for the SEA Games is held by Indra Sjafri, not by Shin Tae Yong. This is because the timing of the SEA Games is close to the 2023 U-20 World Cup which was originally held in Indonesia.
This also makes the names of players in the U-20 Indonesian National Team not included in the SEA Games squad list. However, in the end, the U-20 World Cup was canceled in Indonesia.
The last time the Indonesian national team won the SEA Games was in 1991. The gold medal at the SEA Games in Manila was also the last prestigious title that the Indonesian national team could get on the international stage.
(nva/ptr)