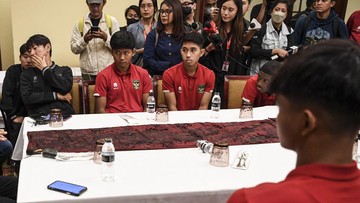 Jakarta, CNN Indonesia —
The U-20 Indonesian national team players wore black ribbons in unison, which became a symbol of mourning because Indonesia was canceled from hosting the 2023 U-20 World Cup.
"Our feelings are of course very sad and disappointed. We have been training together for about two years but what can we do, this incident has buried our dreams. Here we wear the black ribbon symbol, a symbol of mourning for the canceled U-20 World Cup. We hope that the U-20 World Cup will be canceled. supporters can also use it," said U-20 national team defender Kadek Arel Priyatna.
FIFA decided to cancel the 2023 U-20 World Cup in Indonesia through an official statement on Wednesday (29/3). Argentina has a big chance to replace Indonesia.
The rejection of the Israeli national team which was revealed by a number of parties, including the Governor of Bali I Wayan Koster, was the main reason for Indonesia's cancellation as host.
Even though President Joko Widodo (Jokowi) has stated that the Indonesian government is ready to guarantee participants for the 2023 U-20 World Cup, including Israel, FIFA still cancels Indonesia's host status.
Kadek said he was sad because one of the parties who refused the arrival of the 2023 U-20 World Cup participating teams was the Governor of Bali, where Kadek is from.
(Gambas:Instagram)
"To be honest, I was surprised, my regional head himself rejected Israel. That should be able to add to the insight of tourists about Bali in the eyes of the world," said Kadek.
Players and officials of the U-20 Indonesian National Team were seen crying when they gathered at the team hotel after FIFA issued an official statement that the 2023 U-20 World Cup was canceled in Indonesia.
(Gambas:Video CNN)
(hair)