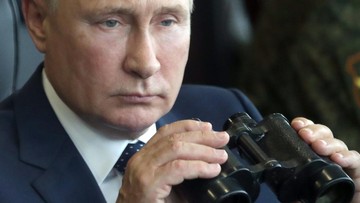 Jakarta, CNN Indonesia —
Armenia made sure to ban Russian President Vladimir Putin from coming to his country even though the country is friendly to Moscow.
This Eastern European country will not hesitate to arrest Putin if he comes even though Armenia and Russia are friendly countries.
The main reason for Armenia taking this step is because it is a member of the International Criminal Court (ICC) and remains in compliance with the international tribunal.
Previously, the ICC issued a warrant for Putin's arrest because he was deemed to have committed war crimes, in particular forcing the deportation of Ukrainian child victims of war to Russia.
(Gambas:Video CNN)
Deputy of the Armenian National Assembly from Nikol Pashinyan's Party, Gagik Melkonyan, on Wednesday (29/3), asked Putin not to come to the country for some time after the ICC's order to arrest the Russian leader.
"If Putin comes to Armenia, he will be arrested. It is better for Putin to stay in his country," Melkonyan said, as quoted by The Moscow Times.
Melkonyan argued that they must comply with their obligations as ICC member states if they are ordered to arrest Putin when the Russian leader sets foot in their country.
"If we are part of this agreement, we must fulfill our obligations. Let Russia solve its problems with Ukraine. I want Putin not to come to Armenia," he said.
Armenia is indeed one of the ICC member countries which has ratified the Rome Statute. Armenia's Constitutional Court ratified the treaty last week and claimed that the ICC rules did not conflict with their country.
The Russian Foreign Ministry once urged Armenia not to comply with ICC rules.
The Russian Foreign Ministry warned of negative consequences in bilateral relations between the two countries if Armenia carried out the ICC order.
"Moscow considers Yerevan's plan to approve the Rome Statute of the ICC completely unacceptable," the Russian Foreign Ministry said in a statement as quoted by RIA Novosti via Reuters, Tuesday (28/3).
On the one hand, Armenia has good relations with Russia. The country is even still listed as a dialogue partner for the Shanghai Cooperation Organization (SCO), which consists of Russia, China, Kazakhstan, Kyrgyzstan, Tajikistan and Uzbekistan.
SCO is economic to military cooperation between countries that are members of the organization.
(tim/bac)
(Gambas:Video CNN)