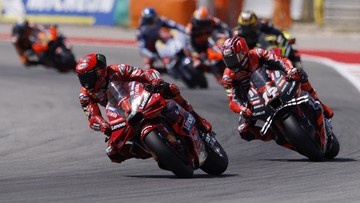 Jakarta, CNN Indonesia —
MotoGP Argentina 2023 will be held at the Termas de Rio Hondo Circuit, Sunday (2/4) evening. Following is the complete schedule for the 2023 Argentina MotoGP.
Back to back races took place at the start of MotoGP 2023. After last weekend's Portugal MotoGP, the racers flew directly to Santiago, Argentina, to undergo the second series race.
The 2023 Argentina MotoGP Sprint Race will be held on Sunday (2/4) in the morning at 01.00 WIB. While the Argentina MotoGP race will start at 24.00 WIB on Sunday night.
Live broadcasts of the 2023 Argentina MotoGP Sprint Race and Race can be watched via the Trans7 television station.
MotoGP Argentina 2023 will not be strengthened by a number of famous racers. Marc Marquez, Enea Bastianini, Pol Espargaro and Miguel Oliveira are confirmed to be absent due to injury.
Pol Espargaro had an accident at the Portugal MotoGP free practice, Bastianini was injured at the Portugal MotoGP Sprint Race, while Marquez and Oliveira were absent due to injuries received after a collision in Sunday's race.
Last season's Argentina MotoGP was won by Aleix Espargaro after beating Jorge Martin and Alex Rins. This is Aleix's first Grand Prix victory in his career.
Complete schedule for MotoGP Argentina 2023
Friday March 31, 2023
20.45-21.30 WIB FP1
Saturday 1 April 2023
01.00-02.00 WIB FP2
20.10-20.40 WIB FP3
20.50-21.30 WIB Qualification
Sunday April 2, 2023
01.00 WIB Sprint Race
24.00 WIB Race
(Gambas:Video CNN)
(har)