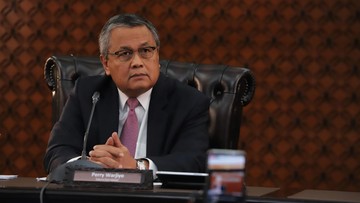 Nusa Dua, CNN Indonesia —
Bank Indonesia (BI) Governor Perry Warjiyo revealed that the central bank governors and ASEAN finance ministers agreed on three priorities for the Finance Ministers and Central Bank Governors Meeting (AFMGM), Friday (31/3).
First, strengthening the policy mix between fiscal, monetary and macroprudential. According to him, this needs to be done in order to contain global economic spillovers.
Second, encourage the use of local currency. Perry said this effort could reduce the dependence of ASEAN countries on international currencies, such as the US dollar.
That way, the currencies of countries in the region do not immediately weaken when the economy is unstable and the US dollar strengthens.
"We agreed to reaffirm resilience, among others, by using local currency to support cross-border trade and investment," Perry said in Nusa Dua Bali.
Third, Perry revealed that ASEAN central bank governors and finance ministers agreed to streamline payments between countries using the Quick Response Code Indonesian Standard (QRIS).
He also expressed this idea as a continuation of the agreement in the G20 some time ago. At that time, BI, Bank Negara Malaysia (BNM), Bangko Sentral ng Pilipinas (BSP), the Monetary Authority of Singapore (MAS), and the Bank of Thailand (BOT), had agreed to cooperate in implementing QRIS between countries.
Perry said that currently other ASEAN countries such as Vietnam, Brunei, and Laos are ready to join in connecting payments using QRIS.
On the same occasion, Minister of Finance Sri Mulyani revealed that the AFMGM forum agreed on Version 2 of the ASEAN Taxonomy.
The ASEAN Taxonomy Version 2 includes the renewable energy transition mechanism which is the wheel of economic growth in the future. Then, sustainable transition financing support that benefits all ASEAN member countries.
(Gambas:Video CNN)
Then, fair and affordable principles that must underlie the green energy transition mechanism.
"This ASEAN taxonomy is related to inclusivity, related to transition, and ensuring that no one is left behind," said Sri Mulyani.
On a separate occasion, he conveyed that Indonesia as the largest country in ASEAN is committed to reducing CO2 emissions. The government has also strengthened the Nationally Determined Contribution (NDC) from 29 percent to 31.8 percent using domestic funding sources.
Meanwhile, with global efforts and support, Indonesia was able to increase CO2 reduction from 41 percent to 43.2 percent.
In implementing this NDC, said Sri Mulyani, one of the most important aspects is the energy transition.
He also mentioned that the World Bank and the Asian Development Bank (ADB) had also stated their commitment to supporting ASEAN countries for the transition to clean energy.
Sri Mulyani said that ADB President Masatsugu Asakawa in the AFMGM forum said he was ready to spend US$100 billion to finance projects related to the energy transition.
"The ADB president will finance US$100 billion and ADB will become a 'climate bank' and this will be good and provide support for ADB members including ASEAN," he said.
Meanwhile for the World Bank, said Sri Mulyani, they did not make a statement regarding the value of the financing. However, the World Bank is committed to support related to climate change.
Sri Mulyani said that financing related to climate change does not only come from financial institutions, but also requires blended finance from bilaterals and also philanthropists.
(mrh/august)
(Gambas:Video CNN)