Jakarta — Carmudi had the opportunity to do a short Wuling Alvez test drive for around 15-25 minutes in the Senayan area, Jakarta, Thursday (30/3/2023).
Before commenting on his driving impressions, in our opinion, Alvez's external appearance looks stylish and modern overall.
Reminiscent of Wuling Almaz, Alvez actually has smaller dimensions.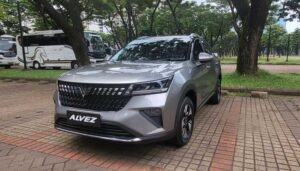 On paper, Alvez has a length of 4,350 mm, width of 1,750 mm and height of 1,610 mm.
Meanwhile, Almaz is 4,655 mm long, 1,835 mm wide and 1,760 mm high.
One of the most interesting parts of Alvez's exterior is the front grille, which is decorated with three-dimensional pixels. In the middle, a silver Wuling logo is pinned.
The first thing Carmudi felt when he sat in the driver's seat was that the cabin space was quite spacious. The headroom and legroom are also quite spacious for Carmudi who is 165 cm tall.
The seat itself feels quite comfortable when you sit on it, which is wrapped in synthetic leather. When taken for a ride, Carmudi felt that the Alvez steering wheel felt light and fit to be held.
Carmudi had the opportunity to sample one of the ADAS (Advanced Driver Assistance System) features embedded in Alvez, namely Lane Keeping Assistance (LKA).
When detecting an existing lane line, this feature helps Carmudi stay in the lane it should be.
Carmudi also tried another feature in the form of an Indonesian-language Voice Command called WIND (Wuling Indonesian Command).
When Carmudi says "Hello Wuling" and "Open Sunroof", this feature immediately opens the Alvez sunroof. Likewise, when mentioning "Hello Wuling" and "Close Sunroof", this feature immediately closes the car's sunroof.
On the other hand, Alvez has a fairly smooth acceleration, but is a bit unresponsive.
This SUV is embedded with a 1,485 cc, 4-cylinder, DOHC engine that can produce 105 hp at 5,800 rpm and 143 Nm of peak torque at 4,000-4,600 rpm.
Impression of Being a Wuling Alvez Rear Passenger
After becoming a driver, Carmudi had the opportunity to be a Wuling Alvez passenger sitting behind.
The first impression that is felt is similar to when you become a driver. The cabin of this car feels very spacious.
However, unfortunately according to Carmudi, the rear passenger seat is a bit hard to sit on and too upright.
What Carmudi likes about sitting in the rear passenger seat is that there is a USB power outlet available which can be used to charge cellphones.
Wuling Alvez has another advantage that many people don't know about, namely the trunk can be made flat on the floor so that it can make the luggage capacity bigger.
Carmudi had tried to make the trunk of this car flat on the floor. The method is quite easy.
First, fold the bottom of the rear passenger seat by lifting the seat and placing it in the leg room vertically.
Then, the seat backs are folded so as to create a flat car boot floor. When you want to return the seat to its original position, Carmudian can straighten the seat back, then lift the bottom of the seat to its initial position.
Price for Wuling Alvez
Alvez SE Rp209 jute Alvez CE Rp255 jute Alvez EX Rp295 jute
Also watch the video review (review) of Wuling Alvez from Carmudi below:
Author: Nadya Andari
Editor: Dimas
Download the Carmudi App to Get the Best New & Used Car Rows and the Latest Automotive Information!


Post Views: 20