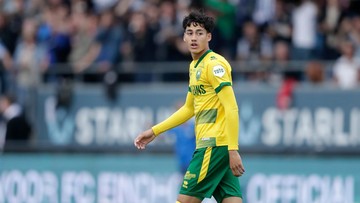 Jakarta, CNN Indonesia —
The 2023 U-20 World Cup has been canceled in Indonesia. Then what will happen to the three naturalized U-20 Indonesian national team players who are only one step away from taking the oath of becoming Indonesian citizens?
Justin Hubner, Rafael Struick and Ivar Jenner's naturalization applications were approved by the House of Representatives last week. After being approved by the DPR, the naturalization process will proceed to the State Secretariat (Setneg) to obtain a Presidential Decree (Keppres) from President Joko Widodo.
The final step is that the Ministry of Law and Human Rights will invite the three players to attend the oath-taking to become Indonesian citizens.
Since the beginning Hubner, Struick, Jenner received recommendations from Shin Tae Yong to naturalize in order to strengthen the U-20 Indonesian National Team at the 2023 U-20 World Cup. In fact, the three of them had even strengthened the Garuda Nusantara team in TC abroad.
But what will happen to the naturalization of the three players after Indonesia is confirmed to fail to host the 2023 U-20 World Cup?
National football observer Muhammad Kusnaeni believes Hubner, Struick and Jenner have strong faith in becoming Indonesian citizens even though the 2023 U-20 World Cup was canceled in Indonesia.
(Gambas:Video CNN)
"Kids who are ready to defend the national team might think 'I can actually defend the Dutch national team'. I don't think in that direction, I'm sure their desire will remain strong regardless of Indonesia playing in the World Cup or not," said Kusnaeni.
If Hubner, Struick, Jenner are confused about remaining Indonesian citizens after Indonesia failed to host the 2023 U-20 World Cup, then that is understandable. Because from the start the three players were projected to appear at the event.
Indonesia's failure to appear at the 2023 U-20 World Cup, plus the threat of sanctions from FIFA, could make Hubner, Struick, Jenner think again about becoming Indonesian citizens. Moreover, they are still young and their careers are still quite long.
In addition, there is no guarantee from Shin Tae Yong that Hubner, Struick, Jenner will also be used for the U-22 and senior Indonesian National Team. Especially if STY is no longer the National Team coach.
(har)