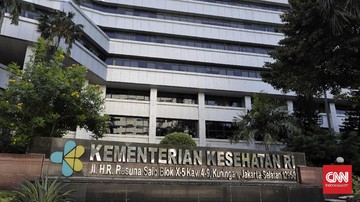 Jakarta, CNN Indonesia —
The Ministry of Health (Kemenkes) stated that it wants the Registration Certificate (STR) for health workers and medical workers to be valid for life through the Omnibus Law on the Health Bill.
Currently the STR for health workers and medical personnel is only valid for five years and must be extended.
The Director General of Health Workers, Arianti Anaya, said that the STR would still be issued by the Konsil. However, later the Indonesian Medical Council (KKI) and the Indonesian Health Workers Council (KTKI) will merge.
"The government needs to improve the simplification of the registration process and practice permits where the STR will be valid for life. So the STR is the same as a diploma," said Arianti in the socialization agenda of the Health Bill in South Jakarta, Thursday (29/3).
Apart from STR, said Arianti, his party will also simplify the Professional Credit Unit (SKP) and Practice License (SIP). According to him, this simplification of the bureaucracy departed from the reports of health workers and medical staff who complained about difficulties.
Arianti said that he would simplify and determine the standardization of SKP weighting. Currently, based on the BP2KB IDI, doctors need 250 SKPs in 5 years.
Thus, the doctors must get 50 SKP in one year. SKP can be obtained from a number of activities.
In the professional realm, it can be obtained through the practice of serving patients. Then in the realm of learning by attending seminars or workshops.
Finally, through the realm of service by joining social services, it can be in the form of counseling or activities related to the community.
"So later the SKP collection will be carried out in a standardized manner. We will sit together, how much is the SKP weighting standardized, and how can we help health workers to have easy access to training and seminars," he said.
Meanwhile regarding the SIP for health workers and medical personnel, Arianti said the validity period remained five years and was issued by the government.
However, he has not specified whether the requirements for issuing SIP will remain the same as they are today, one of which is the need to include recommendations from professional organizations.
"So it is hoped that issues related to the amount of distribution as well as related to quality will be resolved," said Arianti.
(kr/fr)
(Gambas:Video CNN)