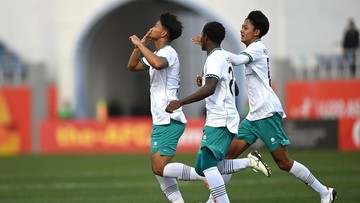 Jakarta, CNN Indonesia —
Nova Arianto, who is Shin Tae Yong's assistant in the U-20 Indonesia National Team, expressed his frustration after the 2023 U-20 World Cup in Indonesia was officially cancelled.
After FIFA announced that Indonesia would not be hosting the 2023 U-20 World Cup, the U-20 Indonesian National Team squad who were conducting a training camp gathered at the hotel to discuss the situation.
All of Shin Tae Yong's assistants gave speeches in front of the players. Nova looked emotional when giving a speech. The former Indonesian national team defender even cried in front of the U-20 Indonesian national team players.
"I've been with the assistant coaches since 2020, today we feel for the second time that we can't appear at the World Cup. Maybe I'm not a player, I just regret the opportunity you should get. The opportunity you should get, but it's gone, " Nova said on YouTube PSSI.
"Regardless of what it is, I only talk about sports. I don't know about politics, religion, or anything like that. Because we work in sports, I talk about sports. It's up to people what to say, I don't have a problem. I can understand maybe there is a state whatever the difference is, but I just can't accept other countries, Israel and Palestine can play, we can't play," said Nova.
Nova's frustration grew when he talked about the hard work of players and coaches for the U-20 Indonesian national team in the last four years preparing to appear in the U-20 World Cup.
(Gambas:Instagram)
"Earlier I read Hokky (Caraka's) (column) comments (social media), 'this is only the World Cup'. Yes, for people who don't know football, they think this is only the World Cup, but this is a dream for all of you. I have survived until now because I want to be in the world cup. I really can't accept this situation, but this is what we get," said Nova.
"Once again I am from 2020 from the first batch in Bekasi. For almost four years we have only had empty hopes. Your dreams are the same as ours, we are very disappointed because we have practiced everywhere to Korea, Spain, but now it is zero. So now I don't care, this is not politics, not religion. I said it was just a sport," said the former Persib Bandung defender.
With FIFA's decision to revoke Indonesia's status as the host of the 2023 U-20 World Cup, it is certain that the U-20 Indonesian National Team will fail to appear. Rumors are growing that Argentina is targeted by FIFA to become the new host.
(Gambas:Video CNN)
(hair)