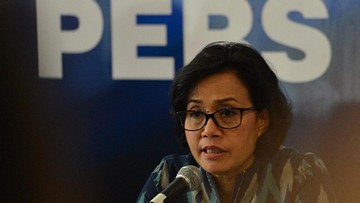 Jakarta, CNN Indonesia —
Minister of Finance Sri Mulyani said that there is a large gap in the level of financial inclusion in ASEAN countries, some even only reach 33 percent.
Financial inclusion is the availability of access for the public to utilize financial products or services in formal financial institutions, such as transactions, payments, savings, credit and insurance.
"Several ASEAN countries still have a low financial inclusion index, which relatively indicates a large disparity between countries in the region, according to the Global Findex 2021," he said at the High Level Dialogue (Seminar) on Promoting Digital Financial Inclusion and Literacy for MSMEs in Denpasar, Bali, Wednesday (29/3).
He considered that there is still a very wide disparity in the financial inclusion index among ASEAN members. Based on the Global Financial Index in 2021 released by the World Bank, the financial inclusion index in the smallest ASEAN country is 33 percent, namely in Cambodia.
Meanwhile, Singapore was the highest with 98 percent, followed by Thailand with 9 percent. Meanwhile, Indonesia has a financial inclusion index of 52 percent.
"The (ASEAN) average is 41 percent, meaning nothing because of the large gap in this index," he added.
Therefore, the country's treasurer said that financial exclusion is still a big challenge and a critical factor in the ASEAN economy. Financial exclusion is a process in which a person faces difficulties in accessing or using financial services.
Sri said that under the WC-Financial Inclusion (FINC), ASEAN has a target of reducing the level of financial exclusion from 44 percent to 30 percent. That way, financial inclusion facilities can be built optimally.
"This will certainly increase readiness in the inclusion infrastructure that needs to be built," he said.
On average, the level of financial exclusion in ASEAN is currently 22.62 percent. Indeed, this figure has exceeded the target of under 30 percent.
Even though he exceeded the target, he warned not to be complacent. This is because ASEAN actually still has more room to grow and advance.
(Gambas:Video CNN)
(mrh/pta)