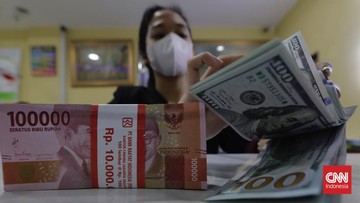 Jakarta, CNN Indonesia —
The rupiah exchange rate opened at IDR 15,075 per US dollar in spot market trading on Thursday (30/3) morning. The Garuda currency weakened 20 points or minus 0.13 percent compared to the previous day's close.
Asian currencies vary. The Chinese yuan was up 0.19 percent, the Singapore dollar was down 0.02 percent, the Malaysian ringgit was stagnant and the Philippine peso was up 0.04 percent.
There was also the Japanese yen which rose 0.16 percent, the Thai baht fell 0.04 percent and the South Korean won fell 0.16 percent.
Most of the major developed countries' currencies weakened. The British pound was minus 0.06 percent, the European euro was down 0.04 percent, the Swiss franc was down 0.07 percent, the Australian dollar was minus 0.09 percent and the Canadian dollar was down 0.06 percent.
However, DCFX Senior Analyst Lukman Leong projects that the rupiah will strengthen today due to the support of risk-on sentiment in the market. In addition, foreign capital inflows into Government Securities (SBN) will continue to support the rupiah.
"However, strengthening will be limited by the strengthening of the US dollar, with fears of a banking crisis easing, the Fed will return to being hawkish and focusing on efforts to fight inflation," he told CNNIndonesia.com.
Today, Lukman estimates that the international gold price will be within the support range of US$1,940 per troy ounce and resistance of US$1,975 per troy ounce.
(Gambas:Video CNN)
(fby/dzu)