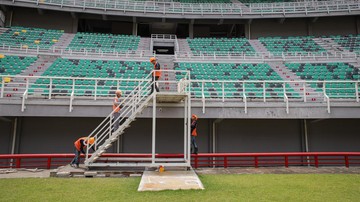 Jakarta, CNN Indonesia —
The 2023 U-20 World Cup was canceled in Indonesia after FIFA revoked its hosting status. As a result of the repeal, hundreds of billions of rupiah in the budget that had been issued were wasted.
The losses that Indonesia can receive are not only in terms of the budget that has been spent on stadium revitalization, but also the potential for foreign tourists to come to this country when the event takes place.
From a budget perspective, PUPR Minister Basuki Hadimuljono said the government had spent IDR 175 billion for revamping the stadium that would be used for the event. There are five stadiums that were repaired for the U-20 World Cup and international scale events.
"It's (revitalized), April is ready and the place for training is also ready," said Minister Basuki, while accompanying President Jokowi on a visit to Baturiti Market, in Tabanan Regency, Bali, last Thursday (2/2).
"That's Rp. 175 billion in all, there are five stadiums that are used continuously, 5×4 (there are) 20 (fields) for those who practice. (Revitalized stadiums) in Palembang, Bandung, Solo, Bali, Surabaya," he said.
The five stadiums are Manahan Solo Stadium, Si Jalak Harupat Stadium in Bandung, Gelora Sriwijaya Stadium in Palembang, Captain I Wayan Dipta Giayar Stadium (Bali) and Gelora Bung Tomo Stadium in Surabaya.
Meanwhile, quoting CNBC Indonesia, Yoyok Sukawi while still serving as the PSSI Executive Committee in July 2020 said the government had disbursed Rp.400 billion in funds to prepare for the World Cup.
Then, in June 2022 Zainudin Amali, while still serving as Menpora, requested an additional IDR 3 trillion from the Government for sports development, of which IDR 500 billion was for preparation for the U-20 World Cup.
In addition to wasted budget, Indonesia also has the potential to lose direct income during the event, including from the accommodation and tourism side. Not only that, Indonesia's chances of getting free promotion to the outside world are also up.
(Gambas:Video CNN)
(dzu/sfr)