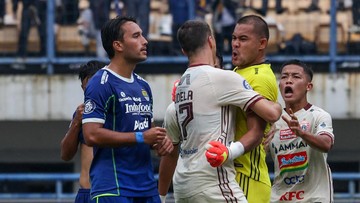 Jakarta, CNN Indonesia —
The Persija Jakarta vs Persib Bandung match at the Patriot Candrabhaga Stadium, Bekasi, Friday (31/3) will be held with the presence of spectators.
The Persija vs Persib match is a postponed match for Week 28 of League 1 2022/2023. Previously, the match was postponed to March 4.
The General Chairperson (Ketum) of The Jakmania, Diky Soemarno said that today a coordination meeting was held with a number of related parties which decided that the match would be held with 25,000 spectators.
"Yes, only specifically for The Jakmania, so there will be no spectators from Persib Bandung," said Diky after an audience with the Chairperson of the DKI Jakarta DPRD at the DKI Jakarta DPRD Building, Thursday (30/3).
On the same occasion, DKI Jakarta DPRD Chairman Prasetyo Edi Marsudi admitted to communicating with Diky on Wednesday (29/3) night about the match being held without spectators.
"Mas Diky asked me to discuss it, I said that football is a people's sport, which unites people from the lower middle class to the upper middle class," said Prasetyo.
Pras greeted him, then contacted the Metro Jaya Police Chief Inspector General Fadil Imran and Acting Bekasi Mayor Tri Adhianto about the fans' wish for the match to be held with spectators.
"I called the mayor, thank you, Pak Mayor of Bekasi, Mr. Kapolda. This morning, Mr. Kapolda also called Mr. Kapolres Bekasi, thank God this Friday, earlier this coordination meeting, I did not attend, I was at the office, Persija supporters opened 25 thousand," said Pres.
Previously, the match was decided to be held without spectators from both Persib and Persija fans as the hosts.
The policy was taken after considering the decision of the Patriot Stadium manager. They recommended using the stadium but without the presence of spectators on both sides.
Previously, Persija had tried to host Persib at the Bung Karno Main Stadium (SUGBK), Jakarta. However, until Tuesday (28/3) the stadium management had not received the green light.
Persija then moved quickly to find a replacement venue. Patriot Stadium, which has been the home of the Kemayoran Tigers, has finally been confirmed as the home for Maung Bandung.
(Gambas:Video CNN)
(yoa/rhr)