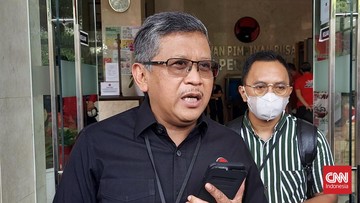 Jakarta, CNN Indonesia —
PDIP Secretary General Hasto Kristiyanto said he was saddened by FIFA's decision to revoke Indonesia's status as host for the U-20 World Cup.
"We are very sorry and sad that finally FIFA has canceled the status of hosting the U-20 World Cup," Hasto said in a statement, Thursday (30/3).
Hasto stated that since the beginning his party had never refused to hold the World Cup in Indonesia. PDIP only rejects the presence of Israel to play in Indonesia. That attitude, according to him, is consistent with FIFA's rejection of Russia.
Hasto emphasized that his party has a strong constitutional and historical foundation. He said the rejection of Israel was a humanitarian voice, not political.
"The voice against Israel's presence is a humanitarian voice, not a political will. Historical awareness must also be strengthened," he said.
Hasto said that his party's position against Israel's presence had been conveyed to the government since August 2022. He admitted that he had suggested that the Israeli match be moved to a nearby country.
"One of them is by moving the Israeli matches to the nearest neighboring country. So that the U-20 can still be held in Indonesia minus Israel," said Hasto.
FIFA officially canceled Indonesia's host status at the 2023 U-20 World Cup on Wednesday (29/3). FIFA will announce the new host in the near future.
The implementation of the U-20 World Cup 2023 has not changed, fixed on May 20 to June 11.
A number of PDIP cadres also called for the Israeli national team to refuse to play in Indonesia. They include the Governor of Central Java Ganjar Pranowo and the Governor of Bali I Wayan Koster.
(thr/from)
(Gambas:Video CNN)