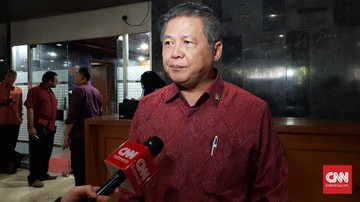 Jakarta, CNN Indonesia —
PDIP politician Hendrawan Supratikno said Indonesia's cancellation of hosting the U-20 World Cup due to the rejection by a number of parties of the presence of the Israeli national team was a risk that had to be faced in order to uphold the constitution.
According to him, humanitarian issues should not be subject to market and entertainment matters. Moreover, he said, considering the attitude of the first Indonesian President Sukarno who did not recognize Israel.
"There is a risk of an upright choice on constitutional lines. Do we want the constitutional mandate to lose out to the competition mandate? Should human and historical legitimacy be subject to the logic of the market and entertainment?" said Hendrawan when contacted by CNNIndonesia.com, Thursday (30/3).
"Difficult choices, but it's a risk that must be faced," he added.
Hendrawan also asked the public not to judge parties who previously voiced their rejection of the arrival of the Israeli national team. He emphasized that those who reject the presence of the Israeli national team are actually trying to uphold the constitution and history.
"Should those who voice the constitution be considered dogmatic, romantic, and nostalgic? Do we let popularity drift and forget the way home to stand on the constitution?" he said.
FIFA has officially revoked Indonesia's host status for the U-20 World Cup in May-June.
The crucial moment that threatened Indonesia's hosting status for the U-20 World Cup was the wave of rejection that emerged against the presence of the Israeli national team. Israel is one of the participating countries that successfully qualified as European representatives.
The two governors whose territories were the venue for the event, I Wayan Koster and Ganjar Pranowo, also voiced their opposition. It is then believed that FIFA has canceled the draw for the 2023 U-20 World Cup which was scheduled to take place on 31 March 2023 in Bali.
Apart from these two figures, there were a number of parties who rejected the arrival of the Israeli National Team, including PDIP, PKS, the 212 Alumni Brotherhood, to the Indonesian Ulema Council (MUI).
(khr/tsa)
(Gambas:Video CNN)