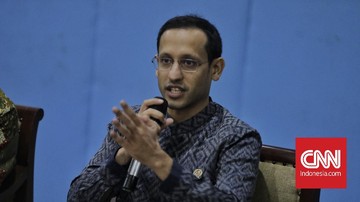 Jakarta, CNN Indonesia —
The Education and Teachers Association (P2G) asked the Minister of Education and Culture Nadiem Makarim to seriously abolish the reading, writing and arithmetic tests (calistung) in elementary school (SD) student admissions.
P2G National Coordinator Satriwan Salim is worried that this policy is just Nadiem's ​​lip service to the media. He warned that removing the calistung test was not a new policy from Nadiem.
"So that this doesn't just become lip service in the media. It is glorified in such a way as if this is a new policy, even though this is a policy that has been around for a long time since 2010 through government regulations," Satriwan told CNNIndonesia.com, Thursday (30/3).
Satriwan said Nadiem had to socialize the plan to eliminate calistung from entering elementary school to all Indonesian schools. He also stressed the provision of sanctions to schools that violated it.
"It was well socialized to the Education Office and there had to be sanctions earlier. If not, this will just become a paper tiger," he said.
According to him, the calistung test for elementary school has actually been banned in various regulations issued by both the government and Nadiem's ​​predecessor.
Based on Article 29 of Government Regulation Number 17 of 2010 concerning Management and Implementation of Education, it is stated that entering elementary school cannot be based on calistung abilities and other tests.
Satriwan said the ban on applying the calistung test to PPDB at the elementary level had existed since the days of the Minister of Education and Culture Mohammad Nuh and Muhadjir Effendy.
During the Muhadjir era, this ban was regulated in the Regulation of the Minister of Education and Culture of the Republic of Indonesia (Permendikbud) Number 14 of 2018 concerning PPDB.
"So in the previous era, Pak Nuh's era, the calistung test was prohibited for children who wanted to enter elementary school. The rules were even regulated at the government regulation level. Then in the era of Pak Muhadjir it was also banned," he said.
Satriwan said that Nadiem had also issued a ban on selecting elementary school students using the calistung test as stipulated in Article 30 paragraph (3) of the Regulation of the Minister of Education, Culture, Research and Technology Number 1 of 2021 concerning Acceptance of New Students.
"This means that even in the Nadiem era, this was indeed banned. The main question is why is the practice of imposing the calistung test on prospective 1st grade students? This is still being carried out by schools. Why is this still happening," he said.
No sanctions
Satriwan said that the calistung test is still being used in elementary school admission selection because there are no strict sanctions that have made schools and the Education Office ignore the regulation.
He considered that the monitoring function of the Ministry of Education and Culture was still very weak towards schools and the Office of Education in various regions.
"This rule is not strict because there are no sanctions. So if Nadiem really wants to create fun learning and wants to eradicate the calistung test, a ministerial regulation should be issued which is clear, strictly prohibits and there must be sanctions for schools that do it," he said.
Previously, Nadiem deleted calistung in the PPDB SD level because misconceptions or misunderstandings about calistung in early childhood education (PAUD) still occurred.
He believes that teaching calistung to children has used the wrong method so that children perceive school as something unpleasant.
According to Nadiem, the perception of calistung is the only thing that is important in PAUD learning, which has a number of consequences for children. He considered the most frightening consequence, namely that children feel that learning is not fun from an early age.
Nadiem said that if children feel that learning is not a pleasant process from early childhood, then it will be very difficult to reverse the child's perception that school can be fun.
"So Merdeka Learning Episode 24, will mandate the education unit for the first time, eliminating all types of calistung tests from the process of admitting our students to elementary school. This is the first one, this is what we have to eliminate. There is no gray here. This is It is the child's right to go to elementary school," explained Nadiem.
(lna/from)
(Gambas:Video CNN)