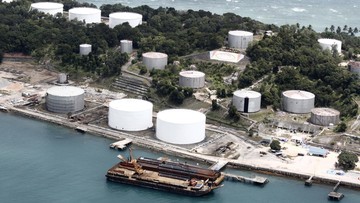 Jakarta, CNN Indonesia —
Oil prices fell in the range of US$77 to US$72 per barrel on Thursday (20/3).
The decline in oil prices was triggered by a rising US dollar, with investors monitoring developments regarding Iraqi Kurdistan's reduction in oil exports.
The Brent crude futures contract was down 37 cents, or 0.5 percent, to $77.91 a barrel by 0300 GMT, while West Texas Intermediate (WTI) crude was down 28 cents, or 0.4 percent, to $72.69 a barrel.
The dollar index, which generally trades inversely to oil, was up 0.11 percent Thursday to 102.75. A stronger dollar makes dollar-traded commodities more expensive for holders of other currencies.
Citing Reuters, producers have shut or reduced production at several oil fields in Iraq's semi-autonomous Kurdistan region in the north following the shutdown of the northern export pipeline, with more outages ahead.
However, the Kurdistan-Iraq premium in oil prices may disappear sooner than expected.
"Changes in Iraq's domestic politics could lead to a durable political settlement in a very short time," said Citi analysts.
Analysts estimate pipeline flows could grow by around 200 thousand barrels per day (bpd).
Meanwhile, the US Energy Information Administration said an unexpected fall in US crude inventories limited the slide in prices, with imports falling to their lowest level in two years.
"Seasonal strengthening in demand in late Q2 is expected to push (oil) prices higher than current levels," said analysts from National Australia Bank.
While oil prices weakened slightly on Thursday, they remain within the trading range seen since early 2023.
Lower-than-target cuts in Russian crude oil production eased supply worries.
Russian crude output fell by around 300k bpd in the first three weeks of March, less than the target cut of 500k bpd.
(Gambas:Video CNN)
(dzu/sfr)