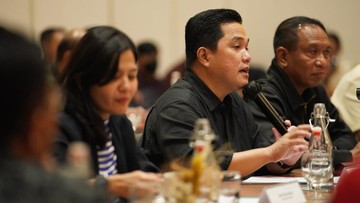 Jakarta, CNN Indonesia —
PSSI still has a task that is no less important after FIFA declared Indonesia canceled from hosting the 2023 U-20 World Cup.
Sports law expert Eko Noer Kristiyanto believes PSSI still has to do something after FIFA eliminated Indonesia in the U-20 World Cup. In this case, the efforts that can be made are lobbying so as not to get sanctioned even though FIFA is considering a penalty for Indonesia.
"In the letter there is also a statement that FIFA will consider sanctions for Indonesia. What can be done is as much as possible not to be penalized," Eko told CNNIndonesia.com.
The man who is known on social media by the name Eko Maung said that the personal closeness of PSSI chairman Erick Thohir and FIFA president Gianni Infantino could be a plus so that Indonesia would avoid punishment. Erick and Infantino's dialogue can be carried out when the two of them meet in person in the near future.
"It's possible that Indonesia won't be sanctioned, that's possible. Now there can also be several examples of sanctions, for example not being allowed to take part in their tournaments, and then the league champions cannot compete at the international level," said Eko.
"I don't know what Erick Thohir will say, but for sanctions it can be negotiated. Maybe there will also be sanctions, but whether they are severe or not is something that can be discussed. Just lobby. So Pak Erick's closeness to the FIFA President is not trivial," he added.
On the one hand, he hopes that FIFA will immediately provide clear information regarding the consequences that will be obtained by Indonesia after it is deemed not to have fulfilled its responsibilities as a host. That way, PSSI can determine further steps so that the football ecosystem continues.
"We have to be clear about any sanctions from FIFA and then we will think ahead. What can be saved without having to wait for sanctions from FIFA is the domestic league already," said Eko.
(Gambas:Video CNN)
(ikw/nva)