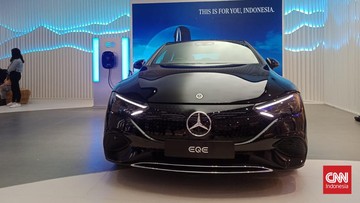 Jakarta, CNN Indonesia —
Mercedes-Benz asked the government to expand the criteria for electric cars to receive subsidies or incentives. Currently, the government is only providing incentives to electric cars that are produced locally and have a Domestic Component Level (TKDN) above 40 percent.
Hari Arifianto, Deputy Director Sales Operation & Product Management of PT Mercedes-Benz Distribution Indonesia (MBDI) said that so far government policies have supported the acceleration of the presence of electric cars in Indonesia. However, he believes that the government can do more for that.
"Thankfully, the incentives are not only specific to domestic components, at least they provide more options until this ecosystem is actually formed, it provides as much access as possible for the convenience of electric cars," Hari said when met in Jakarta, Tuesday (28/3).
According to Hari, various incentives or conveniences from the government will encourage people to immediately switch from conventional cars to battery-powered electric cars. The reason, according to him, is that the selling price of electric cars is too high.
Meanwhile, for daily operations after purchase, it tends to be more efficient than gasoline-powered cars. Therefore, he pushed for other incentives to accelerate the growth of electric cars in the country.
"Because the obstacle is how people adopt (buy) electric cars, if these obstacles are reduced or eliminated, electric vehicles will become the favorites," explained Hari.
"It has been accelerated, there have been many, of course an ecosystem will be formed, later the taxes will follow themselves, spending will also go to the industry or other supporting ecosystems, the hope is like that," he added.
He considered that it should be possible to get incentives or subsidy assistance for manufacturers to build as many Public Electric Vehicle Charging Stations (SPKLU) points as possible.
"You can't get it on the one hand, but you can get other benefits as an ecosystem. This will accelerate quickly. For example, there are many conveniences, the government can contribute to adding power (charging) points, what conveniences do you get, that's a trade-off, but it's the same the same goal is to make it easier for people to adopt electric cars," he explained.
The government previously planned to provide electric car subsidies on April 1, 2023. Electric car subsidies are in the form of a 10 percent Value Added Tax (VAT) discount. The requirements for an electric car to receive a subsidy are those that have been locally assembled and have an TKDN value of 40 percent.
With these requirements, it means that currently only the Hyundai Ioniq 5 and Wuling Air EV can receive subsidy assistance from the government.
(Gambas:Video CNN)
(dmr)
(Gambas:Video CNN)