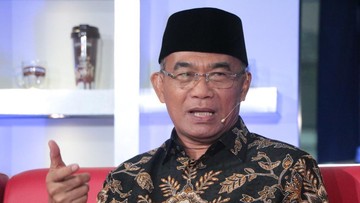 Jakarta, CNN Indonesia —
Acting (Plt) Menpora Muhadjir Effendy asked for the revocation of host status for the 2023 U-20 World Cup to be used as a means of improvement.
"We must immediately look to the future. We will immediately fix our football affairs, especially since we already have very standard rules, namely DBON (National Sports Grand Design)," said Muhadjir, Thursday (30/3).
Muhadjir asked the public, including the players, not to get lost in disappointment. The pros and cons that arose regarding the 2023 U-20 World Cup which was finally cancelled, must also be forgotten.
"We forget everything and we will soon unite again to build national sports, especially our football in the future," said the man who is also the Coordinating Minister for Human Development and Culture.
Regarding the threat of sanctions from FIFA, Muhadjir hopes it will not be burdensome. While waiting for this, Kemenpora will prepare a replacement program that can revive national football.
"We haven't prepared anything if we are subject to sanctions. What we are preparing is that we will not be penalized. So we still hope that FIFA will make the best decision for Indonesia," he said.
The budget for the 2023 U-20 World Cup, which reaches IDR 500 billion, will be diverted later. Sesmenpora Gunawan Suswantoro said that only a small portion of the funds had been used.
"For the implementation of U-20 at Kemenpora we have implemented a small part, because it is for renting lawn mowers, lawn mowers, and national training. The rest have not been implemented," said Gunawan.
"So later we will have a cut off and cancellation of the FIFA cancellation letter," he said after the inauguration of Deputy IV in the field of Improving Sports Achievement at Kemenpora.
(Gambas:Video CNN)
(abs/nva)