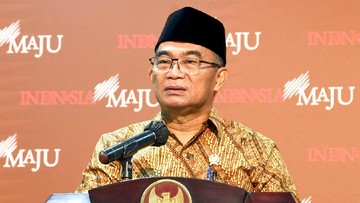 Jakarta, CNN Indonesia —
Acting (Plt) Menpora Muhadjir Effendy admitted that the government was not ready if FIFA sanctioned Indonesia in the near future.
In a release regarding the revocation of Indonesia's hosting status at the 2023 U-20 World Cup, FIFA said that Indonesia would be subject to sanctions. This will be decided in the future.
"We haven't prepared anything if we are subject to sanctions. What we are preparing is that we will not be penalized. So we still hope that FIFA will make the best decision for Indonesia," said Muhadjir, Thursday (30/3).
Muhadjir believes that Indonesia will not be subject to serious sanctions because preparations for the 2023 U-20 World Cup are going well. In this case the Menpora claims that all of FIFA's wishes can be fulfilled by Indonesia.
"I think Indonesia has shown its sincerity, seriousness and very strong commitment in advancing this football and that can be seen from our readiness to prepare for the world cup," he said.
The only thing that made Indonesia unprepared was the presence of the Israeli U-20 team. Muhadjir again mentioned diplomatic relations and Indonesia's constitution that hindered this.
There is no denying that there were Israeli athletes and non-athletes who were able to come to Indonesia some time ago. However, said Muhadjir, they could come to Indonesia by fulfilling the requirements according to Indonesia's foreign policy.
Unlike the 2023 U-20 World Cup. The government has put forward a number of conditions, in accordance with Indonesian constitutional policies, but FIFA cannot accept them.
"I need to convey this, that the presence of the Israeli delegation is not the first time. Based on my records since the reform era, the Israeli team and the Israeli delegation have attended eight times," he said.
"At that time, … nothing happened. Why? because we also apply the rules in such a way that they don't exceed the boundaries set by the state," he explained.
(Gambas:Video CNN)
(abs/nva)