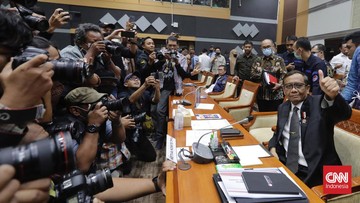 Jakarta, CNN Indonesia —
The Coordinating Minister for Political, Legal and Security Affairs (Menko Polhukam) Mahfud MD was involved in friction with Member of Commission III of the Indonesian Parliament Arteria Dahlan during a hearing at the Parliament Complex, Jakarta, Wednesday (29/3).
The two of them attacked each other in the meeting regarding the polemic on odd financial transactions worth IDR 349 ​​trillion which has been in the spotlight recently.
Apart from the friction of the meeting, both Mahfud and Arteria have a collection of vehicles, both four-wheeled and two-wheeled. This is known from the State Officials' Wealth Report (LHKPN) for both of them.
Mahfud for example, the total assets reported reached IDR 29.6 billion. Of this amount, Rp. 1.65 billion of Mahfud's assets were in the form of transportation equipment.
It is recorded that the former Chief Justice of the Constitutional Court owns six vehicles, consisting of four cars and two motorbikes.
Four of Mahfud's cars include the 2012 Toyota Avaza Veloz with an estimated value of IDR 120 million, then the 2013 Toyota Vios worth IDR 180 million, the 2017 Toyota Camry worth IDR 400 million, and the 2018 Toyota Alphard worth IDR 900 million.
Furthermore, Mahfud's two motorbikes, namely the 2007 Honda worth IDR 3 million and the 2021 Vespa Primavera 150 worth IDR 47 million.
Meanwhile, Arteria in the LHKPN was recorded as having assets of IDR 19.2 billion. A total of IDR 1.082 billion of which was in the form of transportation equipment.
Referring to the LHKPN for the 2019 period, the PDI Perjuangan politician owns five cars, namely the 2008 Nissan X-Trail worth IDR 150 million, the 2010 Mercedes-Benz Sedan worth IDR 310 million, the 2007 Honda CR-V worth IDR 173 million, the 2010 Nissan Serena worth IDR 152 million, and a 2008 Honda Accord valued at IDR 225 million.
Meanwhile, the Arteria motorbikes include a 2007 Yamaha worth IDR 4 million, a 2011 Honda worth IDR 5.5 million, a 2006 Honda worth IDR 3 million, and a 2019 Yamaha Xmax worth IDR 59 million.
(Gambas:Video CNN)
(dmr)
(Gambas:Video CNN)