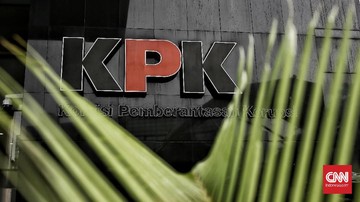 Jakarta, CNN Indonesia —
The Corruption Eradication Commission (KPK) investigative team found IDR 1.3 billion in cash when they searched an apartment belonging to a high-ranking Director General of Mineral and Coal at the Ministry of Energy and Mineral Resources in Menteng, Central Jakarta, some time ago.
Director of Investigation Asep Guntur Rahayu revealed the chronology of the searches carried out by his men from Monday (27/3) evening to Tuesday (28/3) in the morning at 04.00 WIB.
This activity is related to the alleged corruption case of manipulating performance allowances or employee development plans at the Ministry of Energy and Mineral Resources. First, the KPK searched the Office of the Directorate General of Mineral and Coal in Tebet, South Jakarta, Monday afternoon.
In the afternoon, in parallel, another team of investigators moved to the Office of the Ministry of Energy and Mineral Resources in Central Jakarta.
"From there when a search was carried out in Plh's room, the Director General (Minerba) found the key to the apartment. Then we asked the Plh to be invited to his apartment in Pakubuwono (Menteng), automatically until morning," Asep told reporters, Wednesday (29/2019) 3) night.
Asep said the Acting Director General accompanied the investigation team during the apartment search. From that place, found money worth Rp 1.3 billion. KPK, explained Asep, is still conducting an analysis of its relation to the tukin manipulation case.
"Indeed, we found some money there, some money, yes, not tens of billions, around Rp. 1.3 billion," said Asep.
"There we are also still exploring its connection with the case we are handling, including some who have asked about the apartment, yes we are also investigating whether there is a connection or not," he added.
The case that is currently being investigated by the Corruption Eradication Commission (KPK) started with a public complaint which was followed up by a process of inquiry and investigation.
There are at least 10 people who have been named by the Corruption Eradication Committee as suspects for alleged unlawful acts that have caused losses to the state's finances of up to tens of billions of rupiah.
(ryn/tsa)
(Gambas:Video CNN)