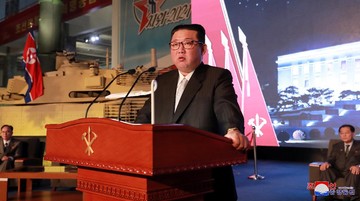 Jakarta, CNN Indonesia —
North Korean leader Kim Jong Un is reported to have ordered the execution of citizens who stumbled on drug cases until they were caught doing worship or religious activities.
Other news is that the Armenian government has banned Russian President Vladimir Putin from coming to his country.
The following are some of the last 24 hours of news summarized in International Flash.
North Korea reportedly executed its citizens for drug crimes, distributed a number of videos from South Korea, until they were caught carrying out religious activities.
The report was revealed by the Ministry of Unification of South Korea on Thursday (30/3). In a 450-page report, the ministry said there were more than 500 North Koreans who fled to South Korea from 2017-2022.
"North Korean citizens' right to life appears to be gravely threatened," the ministry's report was quoted as saying.
"Execution is widely used for unjustified acts such as drug crimes, distribution of South Korean videos, and religious and superstitious activities," the report added.
(Gambas:Video CNN)
Russia is said to have sent envoys to North Korea to obtain weapons supplies.
"We have new information that Russia is actively seeking to obtain additional ammunition from North Korea," White House National Security Adviser John Kirby told CNN.
The United States also said Russia offered to barter food for North Korea in exchange for ammunition supplies.
Armenia will arrest Russian President Vladimir Putin if he visits his country, according to an order by the International Criminal Court (ICC).
This statement was made by the deputy of the Armenian National Assembly from the Nikol Pashinyan Party, Gagik Melkonyan, on Wednesday (29/3), some time after the ICC had issued an order for Putin's arrest.
"If Putin comes to Armenia, he will be arrested. It is better for Putin to stay in his country," Melkonyan said, as quoted by The Moscow Times.
Melkonyan argued that they must comply with their obligations as ICC member states if they are ordered to arrest Putin when the Russian leader sets foot in their country.
(tim/bac)