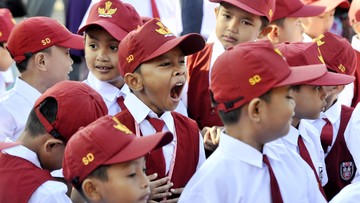 Jakarta, CNN Indonesia —
The Ministry of Education, Culture, Research and Technology (Kemdikbudristek) made adjustments to the Free Learning Curriculum. This step was taken after the reading, writing, and counting (calistung) tests were removed in the admission of new students (PPDB) at the Elementary School (SD) level.
"To support the policy of eliminating literacy and arithmetic tests in PPDB at the elementary level, the Ministry of Education and Culture has made adjustments to the curriculum," said Director of Elementary Schools of the Ministry of Education and Culture Muhammad Hasbi told CNNIndonesia.com, Thursday (30/3).
Hasbi said that the Free Learning Curriculum now places more emphasis on the harmony of learning outcomes between the Early Childhood Education (PAUD) and early elementary grades.
"So that children are no longer required and pressured to be able to read, write and do arithmetic before entering the early grades of basic education," he said.
"Literacy and numeracy skills can be obtained up to the final second grade in phase A of SD," he continued.
Hasbi said that the adjustments in the curriculum must of course be followed by adjustments to learning strategies.
In the initial process of accepting students, he said, children and parents need to be introduced to their learning environment, so that it is hoped that a sense of security and comfort will grow, which will give birth to a positive concept of learning.
"Besides that, teachers need to carry out learning activities to obtain initial information regarding the abilities of each child, and make that information the basis for developing differentiated (child-centered) learning," he said.
Previously, the Minister of Education and Research and Technology Nadiem Makarim removed calistung in the PPDB SD level because misconceptions or misunderstandings about calistung in early childhood education (PAUD) still occurred.
He believes that teaching calistung to children has used the wrong method so that children perceive school as something unpleasant.
According to Nadiem, the perception of calistung is the only thing that is important in PAUD learning, which has a number of consequences for children. He considered the most frightening consequence, namely that children feel that learning is not fun from an early age.
Nadiem said that if children feel that learning is not a pleasant process from early childhood, then it will be very difficult to reverse the child's perception that school can be fun.
(lna/pmg)
(Gambas:Video CNN)