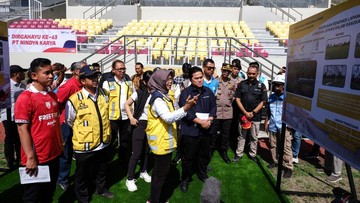 Jakarta, CNN Indonesia —
The Mayor of Solo, Gibran Rakabuming Raka, admitted that his city would not be able to host the 2023 U-20 World Cup. He has also prepared other plans to entertain football fans in Solo.
Gibran said that his party would no longer question FIFA's decision to revoke Indonesia as the host for the U-20 World Cup.
"Okay, it's okay. We'll just follow it, we respect the decision from FIFA. It's okay," said Gibran when met at Solo City Hall, Thursday (30/3).
The City Government (Pemkot) of Solo has long prepared various facilities for the U-20 World Cup in its territory.
Moreover, the city of Solo has been plotted to become the venue for the final and closing ceremony of the second biggest football competition in the world.
"I am positioning myself as the host. Wis is the host (already becoming the host), I am also assigned to be the host of the final. That's why the preparation is really total," said Gibran.
Nevertheless, Gibran said that his party had prepared a replacement event.
The event was initiated with PSSI Chairman Erick Thohir. Even though it's not as big as the U-20 world cup, Gibran ensures that this event will be enough to treat the disappointment of football fans in the country.
"The chairman of PSSI will also prepare another event. God willing, it will be held this year," said Gibran.
With this event, Gibran is sure that the preparations that have been made for the U-20 World Cup in Solo will not be in vain.
"So hopefully what we have budgeted for yesterday, the renovation of the Manahan Stadium that we have carried out will not be redundant," said Gibran.
(Gambas:Video CNN)
(syd/rhr)