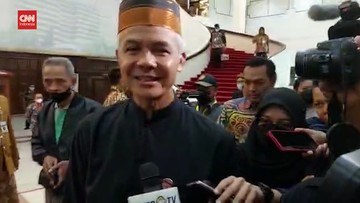 Semarang, CNN Indonesia —
The Governor of Central Java, Ganjar Pranowo, is ready to accept the anger of netizens, especially football fans, when Indonesia was removed from hosting the U-20 World Cup.
FIFA's decision to write off Indonesia as the host could not be separated from the attitude of a number of parties, including himself, who refused to allow the Israeli national team to play in Indonesia.
According to Ganjar, what netizens convey to their social media accounts is a risk for every decision and statement they make.
"Always, it's a risk from decisions and opinions," said Ganjar at the Bhakti Praja Building, Semarang, Thursday (30/3).
Ganjar also highlighted the bullying of netizens on the accounts of his wife Siti Atikoh @atikoh.s and son Alam Ganjar @alamganjar.
The PDI Perjuangan politician hopes that netizens will only attack him, not spread to his family.
"If you want to attack, attack Ganjar, don't attack my wife, don't attack my child," added Ganjar.
Netizens and Indonesian national team players bullied Ganjar Pranowo's social media accounts because they were considered the party that triggered Indonesia's failure to host the U-20 World Cup.
Ganjar was not alone in rejecting the Israeli national team which resulted in Indonesia being dropped by FIFA as host of the U-20 World Cup.
From the regional head, the Governor of Bali I Wayan Koster and the Mayor of Bengkulu also have the same attitude.
While at the party level there are PDIP, PAN, PKS and PPP which reject the presence of the Israeli national team. Then, MUI and PA 212 also loudly voiced a similar attitude.
(dmr/wis)
(Gambas:Video CNN)