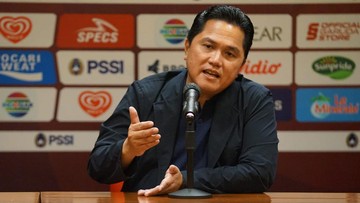 Jakarta, CNN Indonesia —
Erick Thohir uploaded black posts on his Instagram and Twitter accounts. There is no additional information embedded by Erick Thohir in the upload.
Along with this upload, a number of netizens also sent messages of support to Erick Thohir.
"Keep up the good work sir," wrote one netizen.
"Thank you very much, sir, for fighting to the end," said another netizen.
Erick Thohir had gone to Doha to meet FIFA President Gianni Infantino. Erick Thohir's move is an attempt to save host status for the 2023 U-20 World Cup.
(Gambas:Instagram)
This is because FIFA has canceled the draw for the 2023 U-20 World Cup which took place on March 31. The rejection from a number of parties, including I Wayan Koster and Ganjar Pranowo, was the reason for Israel's presence as a participant in the 2023 U-20 World Cup.
Erick Thohir also brought a message from President Joko Widodo regarding Indonesia's ability to host the 2023 U-20 World Cup. However, in the end FIFA still decided to revoke Indonesia's hosting status at the 2023 U-20 World Cup.
FIFA will soon announce a new host for the 2023 U-20 World Cup and the timing of the 2023 U-20 World Cup will not change, remaining from 20 May to 11 June 2023.
(ptr/nva)