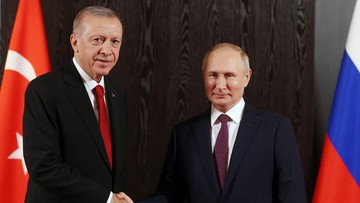 Jakarta, CNN Indonesia —
Turkish President Recep Tayyip Erdogan said Russian President Vladimir Putin might visit Turkey next month.
Erdogan told local TV station A Haber that Putin might visit Turkey to attend the inauguration of the country's first nuclear power plant in Akkuyu. The Akkuyu facility itself was indeed built in collaboration with the Russian nuclear watchdog, Rosatom.
According to Erdogan, Putin will be present at the opening ceremony either in person or via video link on April 27.
On that occasion, Erdogan also said that Akkuyu is one of Turkey's "irreplaceable investments" that will help his country "seriously save energy".
Akkuyu's first reactor will reportedly start operating later this year. While the entire factory in 2025.
Akkuyu will later be equipped with four reactors capable of producing 4,800 megawatts of energy.
(Gambas:Video CNN)
As reported by Russia Today, the two heads of state recently spoke by phone about their collaboration on strategic power engineering projects, including the Akkuyu plant and natural gas supply.
According to the release of the Presidential Communications Directorate on Saturday, Erdoğan also praised Russia's "positive attitude" regarding the Black Sea Grain Initiative.
He also thanked Putin for Russia's assistance to the victims of the devastating earthquake that rocked his country last month.
Erdogan and Putin have been known to be very close. So close, Turkey's position has even been questioned regarding the war in Ukraine because Ankara continues to cooperate with Russia even though Moscow has been hit with massive sanctions and is hostile to many countries after its invasion.
(blq/rds)
(Gambas:Video CNN)