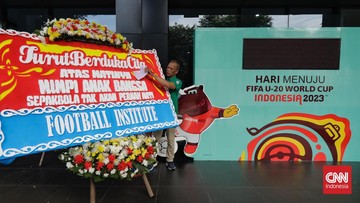 Jakarta, CNN Indonesia —
Economists estimate that the business world lost up to IDR 105 trillion in cash as a result of Indonesia's failure to host the U-20 World Cup.
Digital Economy Observer from the Institute of Economic and Finance (Indef) Nailul Huda said that organizing this sporting event should give a boost to Indonesia's economic growth this year. However, everything was lost because it was cancelled.
"If I count the lost economic potential, especially from the business side, we will lose a potential income of IDR 105 trillion," said Nailul to CNNIndonesia.com, Thursday (30/3).
According to him, this value is based on calculations that use the direct expenditure potential of spectators and teams that should come to Indonesia. This loss was mainly from the hotel, food and beverage, and transportation sectors.
Nailul calculated by assuming that the expenditure of guests who come per day reaches IDR 10 million per person. This fee includes hotel, meal, transportation and airfare costs.
Not to mention if the guests who were present enjoyed tourism in the country. The possibility of spending per day could be greater.
He estimated that if it was held in Indonesia, the World Cup could attract as many as 35,000 guests, or 50 percent of the guests who attended the Poland U-20 World Cup in 2019.
"So I assume Rp. 10 million per day. People who come during the Pildun U-20 in Poland, 70 thousand. I only take 50 percent. So I calculate Rp. 10 million multiplied by 350 thousand people and multiplied by 30 days (length of implementation)," he explained.
Meanwhile, the impact on investor interest in investment is considered not too large. This is because the failure to organize the U-20 World Cup is not directly related to investment.
(Gambas:Video CNN)
"As for investment, I don't think it will be significant, where it is far enough to be connected," he said.
In line with this, Economist at the Center of Reform on Economics (Core) Indonesia Yusuf Rendy Manilet also sees that the impact of canceling this event will have very little effect on investment. Because, sporting events are not a consideration for investors to invest in other countries.
"Generally, investors' considerations when they want to invest are more influenced by several factors such as a country's economic competitiveness, ease of obtaining raw materials, legal certainty, to the incentives provided," concluded Rendy.
(ldy/agt)