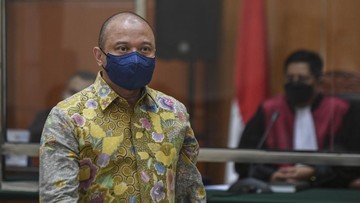 Jakarta, CNN Indonesia —
The hearing to read the memorandum of defense or plea of ​​former West Sumatra Police Chief Teddy Minahasa is scheduled for next Thursday (13/4). Teddy is being charged with the death penalty in a drug trafficking case.
After the demands were read out by the public prosecutor (JPU), chief judge Jon Sarman Saragih asked Teddy's legal advisors about the agenda for reading the defense plea.
Teddy's legal adviser, Hotman Paris, also proposed two weeks' time so that he would have the same time as the public prosecutor in drafting charges. Hotman claims the panel of judges made a promise at the trial two weeks ago.
However, the panel of judges did not grant the request for two weeks. Judge Jon then offers 11 days with stipulations that 10 days are given for duplication.
"So the schedule here is for the 10th (April) defense note. A week later the replica will be on the 17th (April). On the 27th (April) duplicate. So we will give another 10 days of duplicates, so to break even, we will give a duplicate on the 27th. (April). Our decision is planned for May 4th. Is it acceptable?" asked Judge Jon at the West Jakarta District Court, Thursday (30/3).
Hotman said there was a red date or holiday on April 7. Because of that, he asked the panel of judges to shorten the duplication time so that the time for drafting the defense memorandum could be extended.
Judge Jon also granted the request with the condition that the replica and duplic times were shortened. Judge Jon then asked whether the prosecution and legal counsel agreed to this. Both parties agreed.
Then, Judge Jon ensured that the replica and duplic agenda could only get 1-3 days, according to the situation that would occur. This is done so that the case is completed on time.
"Thus, I repeat once again, the next trial will be April 13, 2023, Thursday at 09.00 WIB. The agenda for the trial is a memorandum of defense from the defendant's legal counsel. The defendant remains in custody. Thus, today's trial is declared closed," said judge Jon then hit the hammer once.
It was reported that Teddy was being charged with the death penalty because he was considered legally and convincingly proven guilty of committing the crime of taking part in committing without rights or unlawfully offering to sell, sell, become an intermediary in buying and selling, exchanging and handing over Narcotics Group I non-plants, which weigh more than 5 grams.
Teddy is considered proven guilty of violating Article 114 Paragraph (2) of the Law of the Republic of Indonesia Number 35 of 2009 concerning Narcotics in conjunction with Article 55 Paragraph (1) 1st of the Criminal Code.
(pop/tsa)
(Gambas:Video CNN)