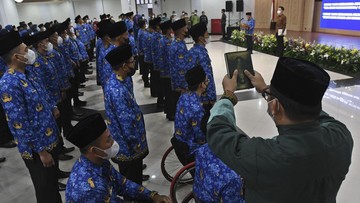 Jakarta, CNN Indonesia —
Netizens signed a petition asking President Joko Widodo to add a 100 percent performance allowance (tukin) to this year's THR for civil servants.
The petition was signed after Minister of Finance Sri Mulyani announced the THR policy for civil servants, military and police in 2023 the same as the previous year, on Wednesday (29/3).
In detail, THR for civil servants is given by taking into account the basic salary, attached allowances (position and family), and 50 percent of the tukin. This means that THR is not 100 percent full like before Covid-19.
Based on change.org, Thursday (30/3), the petition is entitled 'Revision of 2023 THR Rules for ASN'. The target participants who take part are expected to reach 2,500 people.
As of 2:54 p.m., the petition had been signed by 2,046 people.
Here is the full content of the petition:
Good morning ASN friends, ASN families.
ASN is the backbone of service to the community.
ASN is not only a servant of the state, but the person in charge of the family.
ASN do not speak out because they are ungrateful and want to disobey the government, but only want to ask for "mercy" from the rulers of this country.
ASN must rise and unite to fight for ASN rights in improving welfare.
ASN should no longer hope for Korpri which has been barren in fighting for us.
Step forward and fight this injustice.
The last 3 years have been a form of our dedication to the country, various trials have approached ASN. However, our efforts are not appreciated by the government at all.
Why should we be afraid and ashamed? We are only asking for our rights. Like workers who always work together to improve their welfare, why can't we?
We ask the President of the Republic of Indonesia, Joko Widodo to be able to revise his decision regarding the amount of THR ASN in 2023. We do not use this THR for extravagance, but we use it for our Parents, Wife, Children and Siblings.
Don't equate us with officials and employees of agencies who are rolling in money.
(Gambas:Video CNN)
(dzu/sfr)