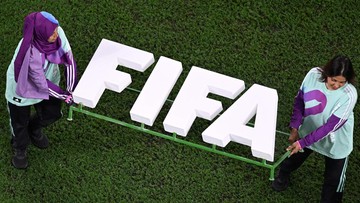 Jakarta, CNN Indonesia —
FIFA's decision to cancel Indonesia as the host for the 2023 U-20 World Cup on Wednesday (29/3) is like a 'tsunami' that has come to destroy the hopes of Indonesian children who are ready to compete in the U-20 World Cup.
Israel's refusal to appear at the 2023 U-20 World Cup through a political movement is the reason why Indonesia has to bury its dream of being the host. This bad news may even make it difficult for Indonesia to gain the trust to hold world events, such as the Olympics.
Not only the Olympics, Indonesia must also close itself from the dream of hosting other world sporting events. As long as Israel has the opportunity to participate in the event, it is time for Indonesia to step down in an orderly manner.
Because of this, the government's desire to host the 2036 Olympics in the national capital (IKN) feels like mere lip service. The biggest sports event on planet earth is always attended by Israeli representatives.
PSSI's dream of hosting the 2034 World Cup is also fading. Even though Israel has never qualified for the finals, it doesn't mean that the Zionist state doesn't have the opportunity to take part.
The attitude of several political parties and community organization groups in Indonesia which rejected Israel in the 2023 U-20 World Cup will undoubtedly leave memories for other FIFA members.
Even the fate of the 2023 ANOC World Beach Games in Bali is also threatened like the 2023 U-20 World Cup. The event which will take place in August will be attended by athletes from Israel.
It also means that Indonesia's dream of becoming a global player is no longer relevant. Sports observer Mohamad Kusnaeni believes that the government has closed the door that it has been trying to do so far.
"The heaviest loss will disrupt Indonesia's credibility in the eyes of the world sports community. It could even be wider in the eyes of the world sports association," said Kusnaeni.
"Currently Indonesia is trying to increase its role from a regional player to a global player. Why are we holding the G-20 presidency because we want to be a global player," he said.
The government's lobbying using PSSI's hands regarding the fate of the 2023 U-20 World Cup has now failed after FIFA decided to change the host. This means that the black hole has been opened.
"If later we fail at the U-20 World Cup, people will wonder when we want to organize a World Cup and the Olympics. Forget it then," he said.
"After all, we will meet with Israel, whether we like it or not, they are present everywhere because they are a country recognized by the United Nations," said the man who is usually called Bung Kus.
Continued on next page…
Palace Attitude and Diplomacy of Erick Thohir
READ THE NEXT PAGE