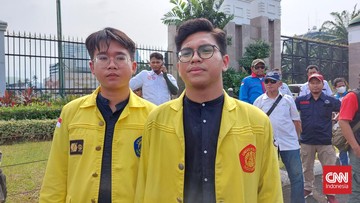 Jakarta, CNN Indonesia —
Chairman of the University of Indonesia Student Executive Board (BEM UI) Melki Sedek Huang said he would hold a big action against the Government Regulation in lieu of Law on Job Creation (Perppu Ciptaker) a la President Joko Widodo on Thursday (6/4).
Melki conveyed that this was the result of a joint agreement in the consolidation carried out at Trisakti University. Melki said that the grand action was rather held in Harmoni, Central Jakarta.
"Our consolidated results yesterday at Trisakti agreed that there would be a big action on April 6, 2023. Yesterday the agreement was at Harmoni mas," Melki added when confirmed by CNNindonesia.com, Thursday (30/3).
Melki also said that students from various campuses and other elements of society such as laborers would participate in the action. According to him, workers are the element of society most affected by the ratification of the Perppu Ciptaker.
"This action will be attended by students from dozens of campuses, workers from various unions, as well as thousands of other people from various elements of society who have been injured by the Job Creation Perppu," added Melki.
Meanwhile, today (30/3) an action against the Perppu Ciptaker was first held by BEM SI in front of the DPR RI Building.
(ref/FROM)
(Gambas:Video CNN)