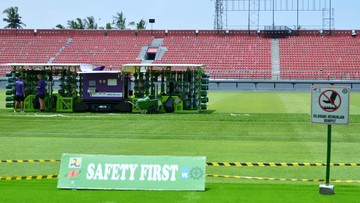 Jakarta, CNN Indonesia —
The Kanjuruhan tragedy suddenly became a topic of discussion and spotlight after FIFA canceled Indonesia's hosting status for the 2023 U-20 World Cup.
FIFA issued an official statement regarding the cancellation of the 2023 U-20 World Cup in Indonesia on Wednesday (29/3) evening.
The letter did not clearly state the factors that caused the problem that made FIFA move the host of the prestigious event which was formerly known as the junior World Cup.
"Following today's meeting between FIFA President Gianni Infantino and Chairman of the Indonesian Football Association (PSSI) Erick Thohir, FIFA has decided, due to the current circumstances, to withdraw Indonesia from hosting the 2023 U-20 World Cup."
This was written by FIFA in an official statement regarding the reason for the cancellation.
Because FIFA only included the words 'current situation', various interpretations arose regarding the real meaning of the world soccer body's reasons for canceling the 2023 U-20 World Cup in Indonesia.
Deputy Chairman of PSSI Zainudin Amali then emphasized the Kanjuruhan Tragedy that occurred in early October 2022.
"Nothing. If it was because of Kanjuruhan, as soon as it happened, of course it would be revoked immediately. There is no relationship with Kanjuruhan," explained Amali on the sidelines of a meeting with U-20 Indonesian National Team players in Jakarta.
Amali, who last year was still serving as Minister of Youth and Sports, also stressed that FIFA at that time even intervened directly to help Indonesia in this big tragedy in the world of football.
"The FIFA president came to express his condolences, express concern and help us for the transformation. There is a team that has come from FIFA for the transformation," said Amali.
Meanwhile, another 'recent situation' that is still hotly discussed today is FIFA's decision to move the host based on the rejection by a number of parties in Indonesia of the arrival of Israel's representatives in the U-20 World Cup including the Governor of Bali I Wayan Koster.
FIFA then canceled the drawing event which was planned to be held on March 31 in Bali and led to a decision to revoke the status of the host for the 2023 U-20 World Cup.
(Gambas:Video CNN)
(nva/sry)