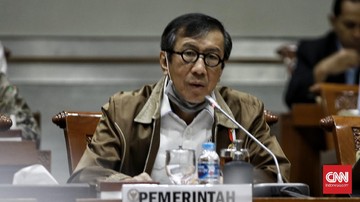 Jakarta, CNN Indonesia —
Minister of Law and Human Rights Yasonna Laoly said that the phenomenon of the 'Russian Village' in Bali occurred due to the government opening the widest possible entrance for foreigners during the Covid-19 pandemic. The policy aims to increase economic growth in Bali.
"I think this (Russian Village) was the excess we opened wide during Covid-19. And during Covid-19 we had a policy not to extend their visas, and at that time friends from the Balinese government really needed it," said Yasonna at a working meeting with Commission III DPR RI at the Parliament Complex, Jakarta, Wednesday (29/3).
He also assessed that the behavior of Russian foreigners, which many local residents complained about, occurred because they had lived in Bali for too long and imitated the behavior of local residents on the Island of the Gods.
However, Yasonna also reported that there was a decrease in the number of Russian foreigners in Bali by 30 percent, or from 29,617 foreigners to 19,530 people as of March 27, 2023. The Ministry of Law and Human Rights has also deported 57 Russian foreigners and 259 other administrative actions.
"It seems that they have been too long, the behavior of some of our people has also been adapted to them, such as riding a motorbike without a helmet, and so on," he said.
Furthermore, Yasonna admitted that he had received a letter from the Governor of Bali I Wayan Koster requesting that the government revoke the visa on arrival (VoA) for Russian and Ukrainian citizens who wish to visit Bali.
Apart from the Governor of Bali, he said, the Ministry of Law and Human Rights had also received similar requests from a number of hoteliers.
"And there should be cooperation between district/city governments in Bali with our teams," he said.
Previously, the "naughty" acts of Russian and Ukrainian foreigners in Bali were in the public spotlight. The Governor of Bali also admitted that he had received many reports about citizens from the two countries committing violations on the Island of the Gods under the guise of tourist visits.
However, the Russian Honorary Consul in Bali, Gede Dharma Wijaya, said that the news about the existence of a "Russian Village" on the Island of the Gods was not entirely true. The Russian Village is said to be a special area for travelers from Russia to live in.
Wijaya said Russian tourists like to get together and rent villas or houses in one place while on vacation. This was later followed by other fellow Russian tourists.
Separately, Russian Ambassador to Indonesia Lyudmila Vorobieva claims that her citizens who become tourists in Bali obey the law. According to Vorobieva, the violators are just a handful of lawless people. According to him, such people do not only exist in Russia, but also in all countries.
(khr/tsa)
(Gambas:Video CNN)