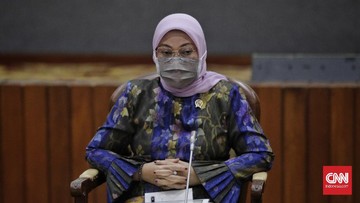 Jakarta, CNN Indonesia —
The Minister of Manpower Ida Fauziyah requires employers to pay holiday allowances (THR) to workers or laborers no later than seven days before Idul Fitri 1444 Hijriah.
"Religious THR must be paid no later than seven days before religious holidays. This religious THR must be paid in full, not in installments. I ask companies to comply with this regulation," said Ida in a press conference, Tuesday (28/3).
The provision of this THR is stated in Circular Letter M/2HK.0400/III/2023 concerning the Implementation of Giving Religious THR in 2023 for Company Workers/Labourers.
Ida emphasized that THR is given to workers or laborers both with permanent and contract status, namely PKWTT and PKWT. In addition, THR must also be given to workers or casual daily laborers who meet the requirements in accordance with laws and regulations.
The condition is that the working period reaches 12 months more or not, the value is given proportionally.
For the amount, employers are obliged to give to workers or laborers in accordance with statutory regulations. For example, for workers who have worked for 12 months or more, they are given THR equal to one month's salary.
Meanwhile for workers whose working period is under 12 months, THR is still given according to a proportional calculation.
"For example, a worker whose salary is IDR 4 million per month and has only worked for six months, then the worker is entitled to THR by calculating six divided by 12 equals half and then multiplied by IDR 4 million. From this calculation, approximately the worker gets THR of IDR 2 million ," said Iida.
Meanwhile, the amount of THR for workers or laborers who have casual daily work agreements can be calculated based on the average wage received for the last 12 months before religious holidays. The same applies to workers whose wages are determined based on output units.
If daily workers have worked for less than 12 months, THR is calculated based on the average wage received each month during their working period.
Entrepreneurs who dare not pay their THR or are given it in installments will be subject to sanctions as stipulated in Government Regulation Number 36 of 2021, namely written warnings, restrictions on business activities, temporary suspension or all production equipment, and freezing of business activities.
On the other hand, Ida allows companies to pay THR higher than the statutory provisions. The possibility of a higher THR payment is stated in the Minister of Manpower Regulation Number 6 of 2016.
"In this rule, it is stipulated that for companies that in their work agreements (PK), company regulations (PP), collective labor agreements (PKB), or customs that apply in the company have regulated the amount of THR which is in excess of statutory provisions, then the THR that is paid to the worker or laborer in accordance with the PK, PP, PKB, or the custom," he added.
(Gambas:Video CNN)
(fby/dzu)