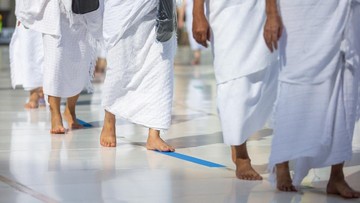 Jakarta, CNN Indonesia —
Polda Metro Jaya revealed that PT Naila Syafaa Wisata Mandiri's umrah travel attracted the interest of its victims by providing cashback promos.
In this case, it is estimated that around 500 people were victims of fraud with an estimated loss of IDR 91 billion.
"Cashback Rp. 2 million, those who are able to gather 9 pilgrims and get 1 congregation free. With the lure, the congregation feels more attracted by the cheaper price, cashback and 1 free," said Kasubdir Harda Ditreskrimum Polda Metro Jaya Ratna Quratul Ainy told reporters, Wednesday (29/3).
Ratna said that PT Naila Syafaa Wisata Mandiri took advantage of family relations to attract their interest under the pretext of lower prices.
"On average they target families, so usually the lure is if they can invite 9 people they can get one free. On average they invite parents or family. Then they register," said Ratna.
Apart from that, said Ratna, there are also those who are lured by Umrah packages plus tours to Dubai for 15 days at low prices, ranging from IDR 30 million to IDR 38 million.
For this promo, Ratna said that the Umrah travel target was traders.
"So far traders have been offered Umrah packages. So far those who have been offered Umrah plus tours in Dubai are interested," he said.
Previously, the Polda Metro Jaya Anti Mafia Umrah Task Force uncovered cases of alleged Umrah fraud by PT Naila Syafaah Wisata Mandiri with hundreds of victims.
The police have named three people as suspects. Two of them are husband and wife (couples) as owners, namely Mahfudz Abdulah alias Abi (52) and Halijah Amin alias Mother (48).
Meanwhile, one other suspect is Hermansyah (59) as the Main Director of PT Naila Safyaah Wisata Mandiri.
The suspects are charged with Article 126 Juncto Article 119 A of Law Number 8 of 2019 concerning the Implementation of the Hajj and Umrah Pilgrimage as amended in Article 126 of Law Number 11 of 2020 concerning Job Creation with a maximum penalty of 10 years in prison.
(dis/bmw)
(Gambas:Video CNN)