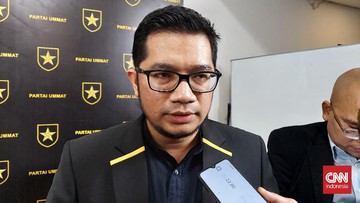 Jakarta, CNN Indonesia —
The Ummat Party questioned the difference in FIFA's treatment of the Israeli national team at the U-20 World Cup and the Russian national team at the 2022 World Cup.
Chairman of the Ummat Party Ridho Rahmadi said that FIFA had removed Russia from the world football competition because of its invasion of Ukraine.
"At the 2022 World Cup in Qatar, FIFA also excluded Russia from participating after Russia was deemed to have violated human values ​​in its military attack on Ukraine," Ridho said in a written statement, Wednesday (29/3).
Ridho also recalled FIFA's policy regarding Euro 1992 qualification. At that time, FIFA eliminated Yugoslavia for humanitarian reasons.
He questioned FIFA's reasons for not doing the same with Israel. Ridho said that Indonesia could not accept the presence of the Israeli national team at the U-20 World Cup because of Pancasila's mandate.
"We cannot allow a nation that kills Palestinians every day in a vicious manner to get involved in the biggest sporting event in the world of football," he said.
He encouraged the government to continue lobbying FIFA regarding the presence of the Israeli national team. According to him, the government must firmly state its position so that Israel is removed from the event.
"Football is an expression of the independence of a nation. Football leagues or sports matches between countries are based on egalitarian feelings, equality, a spirit of unity, and far from xenophobic nuances," he said.
Previously, the participation of the Israeli national team in the U-20 World Cup in Indonesia was controversial. A number of elements of society reject Israel's presence in Indonesia for reasons of conflict with Palestine.
Rejection also came from the Governor of Bali I Wayan Koster. This resulted in the cancellation of the draw for the U-20 World Cup which was supposed to be held last week in Bali.
PSSI Chairman Erick Thohir met FIFA in Doha to communicate about Israel's participation. Most recently, FIFA canceled Indonesia as the host for the 2023 U-20 World Cup.
(dhf/pmg)
(Gambas:Video CNN)