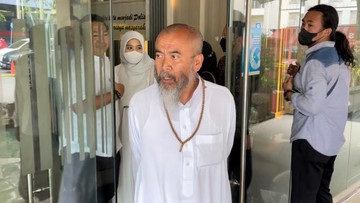 Semarang, CNN Indonesia —
A businessman from the village of Bedono Pujiono Cahyo Widianto or familiarly called Syekh Puji visited the Central Java Regional Police Headquarters, Tuesday (28/3), regarding the case of underage child marriage that was reported in 2019.
Pujiono came with his two wives Ummi Hani and Lutviana Ulva in order to fulfill the summons of investigators from the General Criminal Investigation Directorate of the Central Java Regional Police who were holding a special case at the request of the party who reported Pujiono at that time.
The title of this special case was also attended by the reporting party, namely one of Pujiono's relatives named Wahyu, Agus and an outsider named Endar Susilo.
"To hold this special case was a request from the reporting party who was dissatisfied with us stopping the legal process against Pujiono. That's why we present the reporter and the reported to this forum," said the Head of Sub-Directorate for Youth, Children and Women of the Directorate of General Criminal Investigation of the Central Java Regional Police AKBP Sunarno in his office.
At the case title forum, investigators explained the reasons for stopping the report on underage marriages to Sheikh Puji in 2019.
The report was stopped by the police because the results of the investigation and investigation did not find any facts justifying the marriage by Pujiono and a 7-year-old child, a resident of Magelang.
"Then we conveyed and explained the results of our investigation and investigation. None of the witnesses mentioned the occurrence of a marriage, then from the post-mortem to the alleged victim's child it was also not proven. Including, a prince who was said to have married Pujiono to D also did not exist," explained Sunarno .
Dora, the daughter of Pujiono who took part in the special case at the Central Java Regional Police, expressed her gratitude to the investigators for the professional investigation and investigation process.
"We are very grateful to the Central Java Regional Police Ditreskrimum for their professionalism. It is clear that the conclusion here emerged that the marriage never existed and never happened. Everything is just slander," said Dora.
(dmr/wis)
(Gambas:Video CNN)