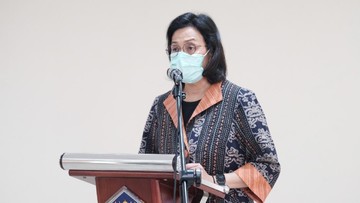 Jakarta, CNN Indonesia —
Minister of Finance Sri Mulyani did not rule out the possibility that the Civil Service Employees' (PNS) Holiday Allowance (THR) would only be disbursed after Eid.
However, he emphasized that civil servants need not worry. Because, even though it hasn't been disbursed before Eid, the THR for civil servants will not be forfeited.
"As happened the previous year, if THR cannot be paid before Eid al-Fitr, it does not mean that THR is forfeited. THR can still be paid after Eid," said Sri Mulyani in a press conference, Wednesday (29/3).
Sri Mulyani stated that the disbursement of THR for civil servants would begin on April 4, 2023. Meanwhile, for the submission of a Payment Order (SPM) for each Ministry/Institution and the local government, they could submit it as early as April.
"K/L can immediately submit a payment order to the state treasury service office," he said.
Generally, delays in payment of THR for civil servants are caused by incomplete SPM submitted by Ministries/Institutions or Regional Governments. This often happens every year, so Sri Mulyani hopes that SPM submissions can be prepared from now on.
This year, the amount of THR given to civil servants is the same as last year. Where only using the calculation of basic salary, embedded allowances, and performance allowances of 50 percent.
This means that since the Covid-19 or 2020 pandemic, the THR received by civil servants has not returned to normal or 100 percent. However, the 2022 and 2023 THR are better than 2021 without using the tukin calculation.
"For THR 2023 it will consist of payments in the amount of basic salary or basic pension plus benefits attached to the basic salary, namely family allowances, food allowances, and structural allowances or other general allowances. Also added 50 percent tukin per month," concluded the woman who is often called Ani This.
(Gambas:Video CNN)
(ldy/sfr)