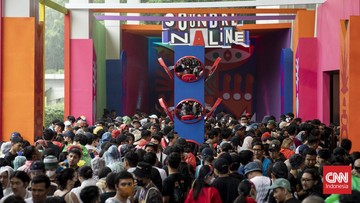 Jakarta, CNN Indonesia —
The Soundrenaline music festival will rock Jakarta again from 2 to 3 September 2023. The announcement was made by Ravel Entertainment as the promoter of Soundrenaline.
In an official statement, Wednesday (29/3), the promoter also promised that Soundrenaline 2023 would bring back international musicians to perform in Indonesia.
"At the Soundrenaline 2023 event which will take place in Jakarta on September 2-3, apart from featuring top national musicians that music lovers have been waiting for, we will also bring in more top world musicians," said CEO Ravel. Entertainment Ravel Junardy.
Soundrenaline 2023 is said to be continuing the euphoria of last year's event which featured musicians across genres from domestic to foreign.
Some of them are Weezer, Neck Deep, Secondhand Serenade, Ignite, Clean Bandit, and Mura Masa.
(Gambas:Video CNN)
They managed to entertain the thousands of spectators who were present, especially Weezer who caught the attention when performing Chrisye's song Anak Sekolah.
Soundrenaline 2022 also features a number of domestic musicians, such as Isyana Sarasvati, Ndarboy Genk, Deadsquad, Seringai, to Mocca.
Last year's event was also enlivened with other entertainment, such as stand-up comedy performances to various artistic offerings that visitors could enjoy.
Meanwhile for this year, Ravel Entertainment has confirmed that it will soon announce the line-up of musicians who will join the two-day festival.
"For the names of the line-up from both national and foreign musicians at the Soundrenaline 2023 event, we will announce them in the near future," said Ravel.
Ravel Entertainment also announced that ticket sales for the presale category will soon open on Thursday (30/3). Tickets are sold starting at 13.00 WIB with prices starting at IDR 388 thousand and including tax.
However, the promoter has not announced the location that will be chosen as the venue for the show in early September.
Ravel Entertainment only ensures that Soundrenaline 2023 will be held again in Jakarta like last year, not in Bali like the previous few years.
(frl/end)