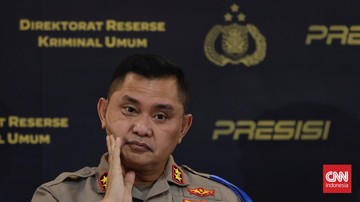 Jakarta, CNN Indonesia —
Inspector General Fadil Imran was transferred to a new position as Head of the National Police's Security Maintenance Agency (Kabarhakam). Meanwhile, Inspector General Karyoto, the former Deputy for Enforcement of the Corruption Eradication Commission (KPK), will occupy the position of Kapolda Metro Jaya who is occupied by Fadil.
Referring to the 2020 State Officials Wealth Report (LHKPN), Fadil is recorded as having assets worth IDR 4.25 billion. The LHKPN was reported when Fadil started his position as Kapolda Metro Jaya.
The majority of Fadil's assets are in the form of land and building assets totaling IDR 2.45 billion. Then, there are also assets in the form of cash and cash equivalents worth IDR 1.49 billion.
According to the LHKPN, Fadil only has one car in his garage. It was noted that he only owns a 2019 Toyota Innova Venturer whose value is estimated at IDR 300 million.
Fadil was previously appointed as the number one person in Polda Metro Jaya during the Covid-19 pandemic. He then created the Tangguh Jaya Village program which aims to reduce the rate of Covid-19 cases.
The name of this two-star general was also dragged into the Ferdy Sambo case. The reason is that there was a video of Fadil hugging Ferdy in the middle of the investigation into the murder of Brigadier J.
After serving as Kapolda Metro Jaya, Fadil is now appointed by the National Police Chief General Listyo Sigit Prabowo to become Kabarhakam Polri. He replaces Komjen Arief Sulistyanto who is entering retirement.
(Gambas:Video CNN)
(dmr)
(Gambas:Video CNN)