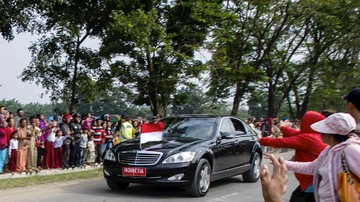 Makassar, CNN Indonesia —
A number of residents insisted on meeting with President Joko Widodo while at the Rammang-rammang Railway Station, Maros Regency, South Sulawesi.
There were even residents who bit the Paspampres personnel because they were prevented from talking to Jokowi.
Initially, President Joko Widodo visited the UMKM stand at the Rammang-rammang Railway Station. Then there were residents who wanted to meet with Jokowi asking for clarification on compensation for land for the construction of the Makassar-Parepare railroad project.
When Jokowi wanted to leave the location of the car, a number of residents shouted and insisted that they wanted to talk. However, they were not allowed by Paspampres personnel at the location.
One of the residents, who was irritated, then bit the Paspampres hand. These residents really want to speak directly with President Jokowi.
Shortly thereafter, President Jokowi, who was already in the car, summoned community representatives to hear complaints.
"Compensation has not been paid for my land since the construction of the railroad started. I have 3 acres of land," said a resident named Lamma, Wednesday (29/3).
Lamma hopes that the government can complete the payment of compensation to a number of residents who have not received their rights.
"We want the president to hear about our suffering. There are some residents who have not received compensation," he said.
The arrival of President Joko Widodo to South Sulawesi was in order to inaugurate and operate the Makassar-Parepare railroad line between Maros-Barru.
Jokowi tried the train line from the Maros Railway Depot to the Rammang-Rammang Railway Station. After that, head to the Fishermen's Village, Pajukukang Village, Maros Regency and to Makassar to see the Eggplant Traditional Market.
(me/bmw)
(Gambas:Video CNN)