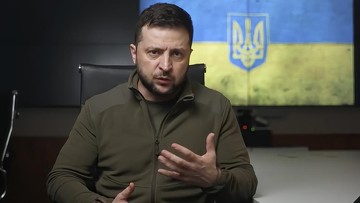 Jakarta, CNN Indonesia —
Ukrainian President Volodymyr Zelensky formally invited Chinese President Xi Jinping to visit Kyiv.
China has suddenly been in the spotlight after releasing a Russia-Ukraine peace proposal on the anniversary of the invasion last February. Xi Jinping also recently visited Moscow and strengthened relations with President Vladimir Putin who seemed to be getting more and more intimate.
"We are ready to see (Xi Jinping) here. I want to talk to him," Zelensky told the Associated Press on Wednesday (29/3).
Zelensky said that before Russia invaded Ukraine, he was often in contact with the leaders of the Bamboo Curtain country. However, since the invasion took place, the two of them have not established communication again.
"I was in contact with him (Xi Jinping) before the invasion. But over the course of this year, more than a year, I haven't," Zelensky said.
Xi has long been known as an ally of Russian President Vladimir Putin. Xi even dared to take a neutral position towards Russia at a time when many major countries condemned the Kremlin's invasion of Ukraine.
(Gambas:Video CNN)
Last week, Xi visited Putin in Russia, drawing speculation that Beijing might supply arms and ammunition to Moscow to replenish its dwindling stockpiles.
However, Xi's visit ended without a single such announcement.
A few days after Xi's visit, Putin even announced plans to deploy tactical nuclear weapons to Belarus.
This step is certainly contrary to the arrival of Xi who wants to push for peace talks for Russia and Ukraine.
Regarding this, Zelensky suspected that Putin acted in this way to divert global attention from the lack of guarantees he received from China.
According to Zelensky, Xi's visit is considered unfavorable for Putin.
"What does that mean? It means that the visit is not good for Russia," Zelensky speculated.
The war situation between Russia and Ukraine itself has so far been turbulent day by day. In the midst of depleting weapons on the battlefield, Putin announced that he would deploy nuclear weapons to Belarus.
Putin deployed the nuclear weapons in response to reports that Britain would send anti-tank ammunition containing low-grade uranium.
Britain has denied the report, but Putin still considers the report so dangerous that Russia should deploy nuclear weapons to neighboring Ukraine.
Belarus itself has declared that it will accept Russian nuclear weapons. They claim the weapons are needed to counter NATO threats.
(blq/rds)
(Gambas:Video CNN)